Terminal Blocks allow for straightforward plugging.
Press Release Summary: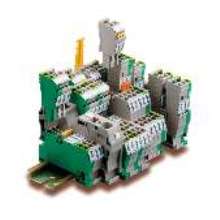 Rated at 20 A/300 V, WeiCoS is equipped with tension clamp connection system on one side and connections for 1 or 2 plug-in connectors on other side. Depending on version, vibration-proof terminals can be connected with 1 or 2 solid or stranded conductors from 0.5-4 mm². High contact force of tension clamp guarantees wire is securely connected. Three plug-in connectors are available in 1-16 pole configurations. All can be plugged and coded without loss of pole.
---
Original Press Release:

Weidmuller Connection System (WeiCoS) : A New Generation of Terminal Blocks


RICHMOND, VA (April 23, 2004) - Weidmuller announces the introduction of WeiCoS (Weidmuller Connection System), a new generation of terminal blocks that gives customers a large degree of flexibility, innovative wiring concepts, and low assembly costs. WeiCoS combines both terminal block and plug-in connection technology that results in an efficient, modular, functionally flexible, and manufacturer-independent wiring system. Prefabricated functional units such as lamps or door controls, mounting plates and switchgear panels can be connected to the existing installation-error-free and in seconds - simply by plugging the plug-in connector onto the terminal. An externally-tensioned contact and locking element guarantee a shock and vibration-proof connection of the plug-in connector with the terminal block.

Ideal for use in mechanical and systems engineering, in process technology, as well as shipbuilding and railway vehicle construction engineering, WeiCoS offers both economic and technical advantages-from project planning and development, production and testing, to commissioning and service. Its standardized units minimize downtime and reduce expensive final assembly time. The user simply joins the WeiCoS modules-the terminal block with plug-in connections-and can replace them just as easily.

WeiCoS is equipped on one side with a tension clamp connection system and on the other with connections for one or two plug-in connectors. Terminals ZT 2.5/4AN/4 and ZTPE 2.5/4AN/4 are equipped to connect a total of four plug-in connectors: two on each side. This allows central connection points to be built up along a length of 85 mm for extremely fast wiring. In addition, these types of terminals have been designed to allow for straightforward plugging-i.e. the plug-in direction of all four connectors is the same-which is beneficial when pre-assembling the connectors. Straightforward plugging means you only have to ensure the correct order of the connections. With other systems you also have to consider on which side of the terminal the connector will be plugged into. This feature reduces planning time and installation costs.

Depending on the version, the new vibration-proof terminals can be connected quickly with one or two solid or stranded conductors from 0.5 mm2 up to 4 mm2 (AWG 26 to 12). The high contact force of the tension clamp system guarantees that the wire is securely connected. The wire connection in the TOP version, where wire insertion and spring operation are carried out parallel to one another, has been designed to ensure the user can connect stranded connectors with ferrules-with or without plastic collars-from 0.5 to 2.5 mm2 . The rated current is 20A, the rated voltage 300 V.

There are three plug-in connectors available for WeiCoS in one- to sixteen-pole configurations. All three configurations can be plugged and coded without loss of pole. End plates are not required; thus, the amount of planning is correspondingly low. The tension clamp system is also incorporated into pluggable connectors to reduce additional installation time. The solid and stranded connectors are connected directly. Ferrules, with or without plastic collars are not required, however they can be used up to 2.5 mm2 without difficulty. The terminal range for stranded connectors is 0.5 to 4 mm2 (AWG 26 to 12). No restrictions are placed on pluggable connectors such as rated current or rated voltage. These are the same as those of the base terminal: 20A and 300V.

An externally tensioned contact guarantees the shock, vibration and shake proof connection of the connectors to the WeiCoS terminals. Separating the mechanical and electrical functions is a basic WeiCoS principle. Both the base terminal and the pluggable connectors can be marked with standard markers that remain clearly legible even when the connectors are plugged and completely wired, making maintenance and troubleshooting much easier.The cross-connection channels of the WeiCoS terminals have proven themselves in the field. These channels make it possible for up to three different electrical potentials to be fed in parallel, as well as allowing terminals to be skipped. Pluggable and fully insulated jumpers save time when "bridging" and also guarantee a "Touch Proof" installation.

WeiCoS terminals and plug-in connectors are made of WEMID, a special thermoplastic insulation material produced by Weidmuller, with enhanced continuous operating temperature of 120 °C. WeiCos features an extensive range of accessories, including additional locking elements that guarantee the shock, vibration and shake proof connection of the plug-in connectors on the terminal strip; coding elements that provide a clear coordination of the connectors and module position; strain relief devices on the connectors that offer additional safety for the connected wire; and test adapters that make fast and precise testing and simulations possible.

Available now, the list price for base terminals is $.93 for feed through; $1.50 for branch. Plugs range from $1.17 for single pole up to $11.96 for a 15-pole. In addition to terminals, Weidmuller offers worldwide an extensive program of terminal blocks with screw, tension, solder, push-on tab, termi-point® and wire-wrap® connection technologies.

W Interconnections, Inc. is the exclusive master distributor in the U.S. for Weidmuller branded products for Germany-based Weidmuller Interface GmbH and Company-the world's leading supplier of electrical connection technology such as terminal blocks, printed circuit board terminals and connectors, relay sockets and plugs, and power supplies. Weidmuller has approximately 3,400 employees worldwide, with 70 sales organizations or offices in more than 60 countries.

More from Machinery & Machining Tools