Terminal Block uses one switch to shunt secondaries.
Press Release Summary: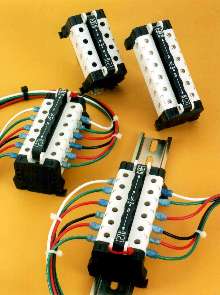 K-Blox(TM) CT Ratchet Shunt(TM) is a DIN rail mountable terminal block for current transmission circuits that comes in 4 and 6 pole configurations. Slide switch can safely short out 3 or 4 CT secondaries with one movement, helping to prevent injuries and damage to equipment. Shunt locks in energized or de-energized position for added safety. Constructed from molded thermoplastics, terminal block is rated for 600 V, 30 A, and has < 10 milliohm contact resistance.
---
Original Press Release:
CT Circuit Terminal Block Features One Switch to Shunt Secondaries
A new type of current transmission (CT) circuit terminal block that can safely short out three or four CT secondaries using one lockable slide switch, to help prevent injuries and damage to equipment during maintenance, is being introduced by Konnext, Inc. of Hudson, Massachusetts. The Konnext K-Blox(TM) CT Ratchet Shunt(TM) is a DIN rail mountable terminal block for CT circuits that comes in four and six pole configurations. Featuring a simple slide switch which can safely short out three or four CT secondaries with one movement, this CT ratchet shunt can be locked in either an energized or de-energized position for additional safety. Eliminating the need for jumpers or shorting screws and the tedious task of shorting and unshorting each secondary, the Konnext K-Blox(TM) CT Ratchet Shunt(TM) saves time and the possibility or error by switching everything at once. Constructed from molded thermoplastics, these terminal blocks are rated for 600 volts, 30 Amps, and have < 10 milliohm contact resistance. The Konnext K-Blox(TM) CT Ratchet Shunt(TM) is priced from $ 6.95 ea. for a three position unit, depending upon quantity. Literature and pricing are available upon request. For more information contact: Konnext Inc. Arnold W. Johansen, Engineering 4 Kane Industrial Dr. Hudson, MA 01749 (978) 567-0800 FAX (978) 568-9964 e-mail: ajohansen@konnextinc.com www.konnextinc.com
More from Electrical Equipment & Systems