Terminal Block Relay has leakage current suppression circuit.
Press Release Summary: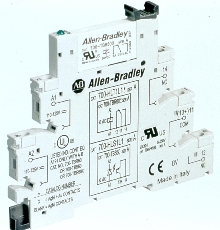 Model 700-HL interfaces between TRIAC PLC or SLC programmable controller output and field device, and keeps relay coil turned off when I/O signal is low. Shunting circuit redirects leakage current before current reaches coil. Capable of shunting up to 2.2 mA leakage current for 120 and 240 Vac input voltages, it is available in 110, 125 and 240 Vac/Vdc input voltages in solid-state and electromechanical versions.
---
Original Press Release:
Rockwell Automation Introduces Industry's First Relay with Built-In Leakage Current Suppression Design
New Allen-Bradley terminal block relay equipped with specially designed shunting circuit to improve machine safety and reliability MILWAUKEE, June 17, 2002 - Control system designers and technicians who have battled the widespread nuisance issues created by leakage current now have a simple, effective solution: The new Allen-Bradley Bulletin 700-HL Terminal Block Relay with an exclusive leakage current suppression circuit (LCSC) design introduced by complete automation leader Rockwell Automation. An industry first, the Allen-Bradley 700-HL with LCSC is designed to interface between a TRIAC PLC or SLC programmable controller output and a field device (sensor, actuator, solenoid-enabled signal), and keep the relay coil turned off when the I/O signal is low. For decades, leakage current has posed concerns in machine control applications that use low-powered devices, such as relays and sensors. The Allen-Bradley 700-HL relay addresses this problem by featuring a specially designed shunting circuit that will redirect the leakage current before the current even reaches the coil. "In many cases, the amount of leakage current present even when the controller's output switch is off is sufficient to keep a relay coil energized. This can be an ongoing nuisance or a major concern, depending on what's connected to it," said Elmar Gillrath, product marketing manager, Rockwell Automation. "The 700-HL relay is designed to suppress a leakage current and prevent the unintentional activation of a device, or accidental starting of a process." A 120V AC controller output (most common in North America) generates approximately .65 milliamps of leakage current, which is enough to keep a relay coil energized and activated. The 700-HL relay with LCSC design can shunt up to 2.2 milliamps of leakage current for 120V AC and 240V AC input voltages, and is compatible with TRIAC-type leakage current I/O cards from Rockwell Automation, as well as the vast majority of competitive modules. It is available in several input voltages: 110, 125 and 240V AC/DC, and in both solid-state and electromechanical versions. The LCSC relay design is the newest addition to the Allen-Bradley 700-HL terminal block relay line designed to meet the space-saving demands of today's OEMs. This 6.2mm wide interface offers the thinnest dimensions in the industry and is ideal for a variety of high-density isolation and interposing applications. It saves space (up to 80 percent more panel space versus traditional general-purpose plug-in relays) by incorporating a terminal block-type design into the relay device, and its ability to be mounted to a rail. For added protection against input voltage fluctuations, the Allen-Bradley 700-HL features built-in coil surge suppression, which limits the amount of input voltage to the coil, and suppresses noise generation from the relay coil. In addition, the socket features DC input polarity protection, which will prevent damage to the device if the input connections are reversed. This is the only such relay that comes out of the box assembled with its matching socket as one part number, and has UL listing and ABS (American Bureau of Shipping) certification. Rockwell Automation (NYSE: ROK) is a world-leading provider of industrial automation power, control and information solutions that help customers meet their manufacturing productivity objectives. The company brings together leading brands in industrial automation for Complete Automation solutions, including Allen-Bradley® controls and engineered services and Rockwell Software® factory management software, Dodge® mechanical power transmission products, and Reliance Electric® motors and drives. The company also is a leading provider of contact management technologies and applications that help companies more efficiently manage interaction with their own customers. Headquartered in Milwaukee, Wis., USA, the company employs approximately 23,000 people at more than 450 locations serving customers in more than 80 countries. For more information on the Allen-Bradley Bulletin 700-HL Terminal Block Relay, please contact the Rockwell Automation Response Center, 10701 Hampshire Avenue South, Bloomington, Minn., 55438, 800.223.5354, Ext. 1528.
Contact This Company Download Spec Sheet
More from Controls & Controllers