Tensioning Device fits aero-mechanical conveyors.
Press Release Summary: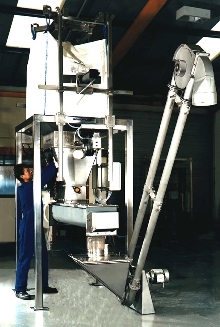 Tensioning and monitoring device reduces running costs and increases wire-rope life by up to 40%. It can be fitted to most major makes of aero-mechanical conveyors.
---
Original Press Release:
Spiroflow Introduces Automatic Rope Tensioning Device For Aero Mechanical Conveyors

CHARLOTTE, North Carolina--- Spiroflow Systems Inc. has introduced a patented tensioning and monitoring device for aero mechanical conveyors, designed to reduce running costs dramatically and increase rope life by up to 40%.

Aero mechanical conveyors operate by means of a continuous wire rope with accurately spaced polyurethane discs moving at high speed within a steel tube. At each end, the rope assembly runs around specially designed sprockets. The action of the rope traveling at high speed sets up an air stream, which fluidizes and conveys product to the outlet where it is centrifugally ejected. High capacities can be achieved with low energy requirements and minimal production degradation and separation. A useful feature of an aero mechanical system is its ability to convey products at any angle, even vertically up to 80ft, without loss of capacity.

As with all types of conveyor system, routine maintenance reduces breakdowns and wear, and aero mechanical conveyors are no exception. Correct tensioning of the rope is essential and Spiroflow's new device is a major breakthrough aimed at reducing maintenance costs. An added benefit is that it can be fitted to most major makes of aero mechanical conveyor.

For more information, contact Spiroflow Systems, Inc. at 704-291-9595 or by email at info@spiroflowsystems.com. Spiroflow can be seen on the internet at www.spiroflowsystems.com.


More from Fluid & Gas Flow Equipment