Tensioning Connectors require no machining for installation.
Press Release Summary: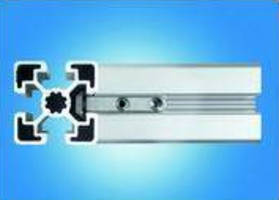 Tensioning connectors can be slid or swiveled into groove, simplifying joining of 2 profiles and allowing retrofit into existing applications. Adapted to profiles with 8 and 10 mm grooves, units work with all profile cross sections in Basic Mechanical Elements modular system. They are also available in ESD-compatible versions, able to withstand bending loads of up to 35 and 110 Nm and sliding forces of maximum 1,000 and 3,500 N.
---
Original Press Release:

New Tensioning Connector Requires No Machining: Users Save Assembly Time and Money



The new tensioning connector can be inserted or subsequently swiveled into grooves without any profile machining required, thus saving the user assembly time and money.

Rexroth's new tensioning connectors ensure simple and reliable joining of two profiles. Users save assembly time and money, as the tensioning connectors can be easily inserted in profile grooves without any end machining. When installed in the groove, they do not protrude at all. Precisely adapted to profiles with 8 and 10 mm grooves, they work with all profile cross sections available in Rexroth's Basic Mechanical Elements modular system.

The connectors can be slid or swiveled into the groove, making it possible to retrofit them in existing constructions. Only one tool is required for simple and fast assembly of both connector types. Users can also insert the tensioning connectors in existing frames without having to disassemble them first.

Rexroth also offers an ESD-compatible tensioning connector. It can withstand bending loads of up to 35 and 110 Nm, as well as sliding forces of maximum 1000 and 3500 Newton, and always ensure a sturdy connection. When using the tensioning connector, the grooves are kept free and can be used to hold surface elements.

Bosch Rexroth AG is one of the world's leading specialists in the field of drive and control technologies. Under the brand name of Rexroth the company supplies more than 500,000 customers with tailored solutions for driving, controlling and moving. Bosch Rexroth is a partner for industrial applications and factory automation, mobile applications and using renewable energies. As The Drive & Control Company, Bosch Rexroth develops, produces and sells components and systems in more than 80 countries. In 2008 Bosch Rexroth AG, part of the Bosch Group, achieved sales of around 5.9 billion Euro with 35,300 employees.

For more information please visit: www.boschrexroth.com

Contact for Journalists:

Bosch Rexroth AG

Chantal van Mierlo

Maria-Theresien-Str. 23, 97816 Lohr

Phone: +49 9352 18-1573

Fax: +49 9352 18-1802

[email protected]

For product specific questions and reader inquiries:

Bosch Rexroth AG

Ingrid Alter

Postfach 30 02 07, 70442 Stuttgart

Phone: +49 711 811-46181

Fax: +49 711 811-31543

[email protected]