Tenney Environmental Vacuum Drying Oven Reduces Cycle Time by 8 Hours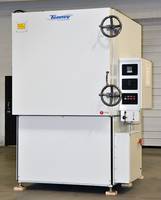 Tenney Environmental, a division of Thermal Product Solutions, announced the shipment of a vacuum drying oven to the aerospace industry. This vacuum drying oven is designed to remove moisture from a large spacecraft engine after it goes through a washing process. The previous conventional method of drying took over 12 hours due to the intricacy of small diameter tubing, fine screen meshes, and other hard to get to areas. The vacuum drying oven will reduce that time to 4 hours.
This vacuum drying oven utilizes radiant heat wrapped around the pressure walls to heat the product to approximately 100°F. The chamber is also evacuated to a very low vacuum level and simultaneously purged with heated gaseous nitrogen via an on board automated GN2 heater. Lowering the pressure around the product lowers the boiling point of the standing water in the hard to reach areas. This allows for the moisture to be boiled off much quicker at a lower than normal boiling temperature so the product is not heated above safe operating temperatures. It also greatly reduces the time the product needs to cool down for safe handling after the drying process.
Tenney designed this system to reside in a clean room and included a custom motorized material handling hand truck engineered to be an exact fit for the customer product. The hand truck allows one user to easily load and unload 800 lbs. of product by themselves which reduces risk of injury and labor costs.
"Our vacuum drying ovens are an extremely efficient way to remove moisture from almost any product faster and at lower temperatures than other conventional methods. This unit was customized to the customer's unique engine drying needs."
– Rick Powell, Vacuum Products Manager
Unique features of this vacuum drying oven include:
Control Tolerance at sensor: +/-5Torr
Pump capable of removing at least 3.5lbs of water vapor per hour
100°F to 140°F operating temperature range
On board automated GN2 heater
304 Stainless Steel interior
Contact This Company Download Spec Sheet
More from Health, Medical, & Dental Supplies and Equipment