Temporary Containment Systems handle airborne particulates.
Press Release Summary: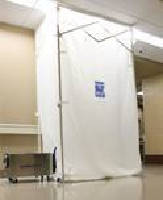 Featuring fire retardant design, Mintie Disposable Envelopes are suitable for construction and maintenance containment. Systems are compatible with ECU Ceiling Cavity and ECU2 modular unit, and can be used to standardize compliance with Infection Control Risk Assessment throughout facility. Collapsible, recyclable, and biodegradable, envelopes act as their own bag when finished so there is no need for post use decontamination.
---
Original Press Release:

Solutions for Portable Containment of Infectious Airborne Particulates



The increased focus on infection control standards today demands a reliable contamination solution that can be deployed quickly and conveniently. Liberty Industries is an authorized distributor for the Mintie systems.  Mintie's  portable solutions for temporary containment of airborne particulates during normal facility operation, isolation during a public health emergency and construction/ maintenance.



The ECU product lines are collapsible, lightweight units that can easily be deployed by one person in 10-20 minutes (depending on the mode); making proper containment hassle free.



Liberty Industries has expanded its line offering with Mintie and offers the Disposable Envelope (DE)  which provides reliability and high performance in an affordable, disposable solution for containment standardization. These fire retardant envelopes provide constant appearance, cleanliness and safety. Construction and maintenance containment has never been easier to use or easier to implement. 



Disposable Envelopes (DE) provide consistent appearance, cleanliness and performance that can be used with the ECU Ceiling Cavity and  the ECU2 modular unit.  A truly affordable solution, these envelopes can be used to standardize compliance with the Infection Control Risk Assessment (ICRA) throughout a facility. Plus they save time and effort.



Liberty Industries and Mintie care about environmental impact. The lightweight fire retardant DE are recyclable and due to advanced additives are biodegradable.  DE set up is easy with the ECU DE and the Mintie frame, repositioning is quick, and tear down is simple. When finished the envelope acts as its own bag, there is no need for post use decontamination.

More from Non-Industrial Products