Temperature Sensors / Detectors / Transducers
Temperature Sensor suits precision measurement applications.
Press Release Summary: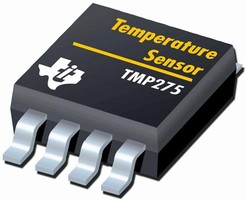 Supplied in MSOP-8 package, TMP275 delivers ±0.5°C accuracy (max) from +10 to +85°C and ±0.75°C (max) from 0 to +100°C. Digital-output temperature sensor incorporates I2C/SMBus-compatible, 2-wire serial interface and allows up to 8 different addresses for flexibility in interface bus designs. Along with 9-12 bit programmable resolution and 0.1 µA shutdown current mode, sensor features 50 µA power consumption for extended battery life and minimal self-heating.
---
Original Press Release:

TI Introduces ±0.5C Accurate Temperature Sensor for Precision Measurement Applications



DALLAS (November 8, 2006) - Texas Instruments Incorporated (TI) (NYSE: TXN) today announced a low-power, +/-0.5C accurate, digital-output temperature sensor. The TMP275 is well-suited for precision temperature measurement in a wide range of communications, computer, consumer, environmental, industrial and instrumentation applications. (See www.ti.com/sc06140.)

The high accuracy of the TMP275 enables more efficient thermal and power management, while low power consumption extends battery life and minimizes self-heating. The TMP275 can be configured for a wide variety of systems including battery-powered devices, HVAC equipment, notebook computers, cell phones and base stations.

The TMP275 features +/-0.5C (max) accuracy from +10C to +85C and +/-0.75C (max) accuracy from 0C to +100C. The two-wire serial interface is I2C/SMBus-compatible. Additional features include 50uA power consumption, programmable resolution (9- to 12-bit), 0.1uA shutdown current mode, excellent stability over temperature and a wide temperature range of -40C to 125C. The device allows up to eight different addresses for flexibility in interface bus designs.

Available Today

The TMP275 is available now from TI and its authorized distributors in a small MSOP-8 package. It is priced at $1.25 each in 1,000-piece quantities (suggested resale pricing).

TI offers analog engineers a wide-ranging support infrastructure that includes training and seminars, design tools and utilities, technical documentation, evaluation modules, an online KnowledgeBase, a product information hotline and a comprehensive offering of samples that ship within 24 hours of request. For more information on TI´s complete analog design support, and to download the latest Amplifier Selection Guide, visit www.ti.com/analog.

Texas Instruments Incorporated provides innovative DSP and analog technologies to meet our customers' real world signal processing requirements. In addition to Semiconductor, the company includes the Educational & Productivity Solutions business. TI is headquartered in Dallas, Texas, and has manufacturing, design or sales operations in more than 25 countries.

Texas Instruments is traded on the New York Stock Exchange under the symbol TXN. More information is located on the World Wide Web at www.ti.com.

Please refer all reader inquiries to:
Texas Instruments Incorporated
Semiconductor Group, SC-06140
Literature Response Center
14950 FAA Blvd.
Fort Worth, TX 76155
1-800-477-8924

Trademarks
All Trademarks are the property of their respective owners.

More from Computer Hardware & Peripherals