Temperature Sensors / Detectors / Transducers
Temperature Sensor features clip-on installation.
Press Release Summary: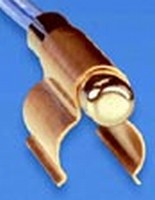 Suited for thermal tracking applications, clip-on temperature sensor assemblies are thermally tied to pipe via copper clip and feature sensor element with ±0.2°C accuracy from 0 to +70°C. All-metal construction and design of clip allows housing to be installed onto straight section of copper tubing from 3/8-5/8 in. OD. Temperature sensor consists of epoxy-coated NTC thermistor, and resistance values range from 2,252 W to 10,000 kW. RTDs and silicon PTC sensor elements are available.
---
Original Press Release:

Clip-On Temperature Sensor Simplifies Installation



St. Marys, PA - November 10, 2006 - Spectrum Sensors and Controls introduces a series of clip-on temperature sensor assemblies designed to provide a low cost option for applications where ease of installation and excellent thermal tracking are important. The sensor assembly is thermally tied to the pipe via a specially designed copper clip ensuring good thermal contact with the copper tube. Spectrum's sensor element features accuracy of +/- 0.2°C from 0°C to 70°C and reacts quickly to changes in tube temperature because the sensor housing is held closely to the tube.

The temperature sensor consists of an epoxy coated NTC thermistor featuring a unique internal construction that provides moisture resistance by sealing the sensing element from the outside environment. Standard resistance values range from 2252W to 10kW. Internal thermistor constructions are available for applications not requiring moisture resistance. In addition, RTDs and silicon PTC sensor elements are available.

The sturdy, all-metal construction and design of the clip allows the housing to be quickly and easily installed onto a straight section of copper tubing from 3/8" to 5/8" OD and to remain snug even after being removed and installed numerous times. For maximum accuracy, it is best to wrap a thermally insulating material over the sensor assembly. This is especially effective when there is a large temperature gradient between the tube and the outside air temperature.

Spectrum's clip-on temperature sensors are priced at approx $6.00 @ 1000pcs with a lead time of stock to 4 weeks.

About Spectrum Control
Spectrum Control, an ISO 9001 and QS 9000 certified company, designs, manufactures and markets a broad line of EMI/RFI filters and power components, power management systems, microwave components, and position and temperature sensors and controls.

Spectrum Sensors & Controls Advanced Thermal Products Operation produces temperature sensing probes and assemblies, PTC and NTC thermistors and resistive temperature detectors (RTDs). The company's Precision Positioning Sensors Operation manufactures a variety of precision co-molded conductive plastic potentiometers and position sensors, as well as element segments and cable assemblies. Designs for these potentiometers and position sensors include rotary, motorized, hollow shaft, linear and fader types, as well as custom assemblies.

The Spectrum Control EMI Filters and Components Group produces discrete surface mount EMI filters, resin sealed and hermetically sealed EMI filters, EMI filtered arrays, EMI filtered connectors, ESD/EFT protected connectors, filtered data-com connectors, gaskets and shielding, patch antenna elements, single line filters, filtered terminal blocks, power entry modules, power line filters, military/aerospace multi-section filters, and commercial custom assemblies.

The Power Management Systems Group produces AC and DC power distribution and remote management systems. Products include off-the-shelf SMART start products as well as customized products or systems designed to suit specific user requirements. DC power circuit breaker panels, power outlet strips and data acquisition modules are also offered.

Spectrum Microwave is a wholly owned subsidiary of Spectrum Control, Inc. and produces a wide range of microwave components and systems. Integrated Microwave Systems include switchable filter banks, low noise amplifiers, local oscillator multipliers, microwave synthesizers, digitally tuned oscillators and integrated assemblies. Microwave Filters include bandpass filters and duplexers, lumped element filters, cavity filters, waveguide filters, tubular filters, base station products and resonators. Frequency Control Components include a wide range of amplifiers, mixers, voltage controlled oscillators (VCOs) and dielectric resonator oscillators (DROs).

For further product information, contact, Devin Brock, Spectrum Sensors & Controls, Inc., St Marys, PA 15857. Phone: 814-834-1541 Fax: 814-834-1556, Email: sales@atpsensor.com, Website: www.atpsensor.com
-or-
Tim Glass, Altman-Hall Associates, 235 West Seventh Street, Erie, PA 16501. Phone: 814-454-0158. Fax: 814-454-3266. Website: www.altman-hall.com

More from Agricultural & Farming Products