Temperature Profiling Datalogger optimizes batch oven process.
Press Release Summary: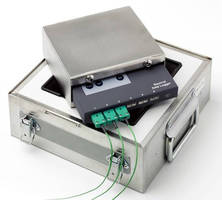 Able to survive temperatures up to 482°F for as long as 50 min (longer with phase change heat sink insert), battery-operated Grant Temperature Data Logger in Grant Oven Temperature Profiling Kit lets users obtain complete temperature profile and print QA reports. Datalogger has 6 channels for connection with diverse Type T and K thermocouple probes, is designed for through process monitoring, and captures data at up to 8 samples/sec. Non-volatile memory stores up to 260,000 secure readings.
---
Original Press Release:

Optimize Batch Oven Process with Temperature Profiling



Whether you're preheating, drying or curing a part, oven temperature data is integral to operation audits for batch ovens and other types of process oven applications. Looking at your performance, you can see if your batch oven's temperature really is uniform, or if in fact there are 'hot' and 'cold' spots inside which can ruin consistency.



Using the Grant Oven Temperature Profiling Kit, you can obtain a complete temperature profile and produce proof that your products have passed through the process at the right temperature for the right amount of time. You can also print QA reports for compliance, traceability and complete quality control. For example, you can use the temperature profile during single-batch thermal processing to minimize curing time and prevent undercured parts.



At CAS DataLoggers we provide a complete turn-key package including the data logger, thermal barrier, and probes especially designed for batch oven and paint curing applications. To optimize your process, call CAS DataLoggers today at (800) 956-4437 and learn more!



Get the Inside View of Your Process:

The Grant Temperature Data Logger is designed specifically for through process monitoring and surface coating applications. The datalogger is ideal for placement in walk-in, bench or other batch oven types. As the battery-operated datalogger passes through your process along with your products, it records a highly-accurate temperature profile. The collected temperature data will show how thorough your process actually is, while also showing areas for long-term improvement.



The datalogger has 6 channels for connection with a broad range of Type T and Type K thermocouple probes, capturing data at high speed (up to 8 samples a second), enabling fast process times. The oven datalogger reports and stores the time and date onto its non-volatile memory, storing up to 260,000 secure readings. It's easy to navigate the menus through the intuitive 3-button design via the integrated display. The logger's USB interface communicates with a PC for setup and data download.



Superior Thermal Protection:

With the addition of the kit's Custom-enhanced Thermal Barrier for effective heat absorption, the Grant OMK610 Oven Temperature Profiling Kit is ideal for use in heat treatment applications. This all-stainless steel enclosure gives the oven logger solid protection for years of use. The barrier insulates it from paint and finishing ovens, safeguarding it against temperatures up to 250°C (482°F) for as long as 50 minutes.



A unique phase change heat sink insert can be added to the barrier to extend operation at 250°C to a full 100 minutes.

You'll also receive a carrying case, a quick-start guide, and your choice of fast-response probes in clip-on, magnetic and combination types to capture both surface and air temperature measurements.



PaintView Software:

The data logger includes FREE SquirrelView software for setup and configuration, while the full kit also includes the most recent version of PaintView, a powerful software package exclusively for the paint and finishing industry. 



The Data Logger Experts:

At CAS DataLoggers we offer several different oven temperature profiling systems to gather temperature data and help optimize processes and minimize costs for batch ovens, baking, powder coat curing, and other process ovens. All with the aim of improving your process efficiency and increasing repeatability, quality, profitability, and lowering recalls.



Custom thermal barriers are available on request for other applications that have different process time/temperature profiles.



For additional information on the Oven Temperature Profile Data Logger, or to find the ideal solution for your application-specific needs, contact a CAS Data Logger Applications Specialist at (800) 956-4437 or visit our website at www.DataLoggerInc.com.



Contact Information:

CAS DataLoggers, Inc.

8437 Mayfield Rd.

Chesterland, Ohio 44026

(440) 729-2570

(800) 956-4437

sales@dataloggerinc.com




More from Software