Temperature Sensors / Detectors / Transducers
Temperature Pipe Probe Features Fast Response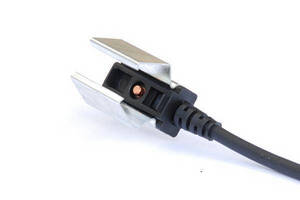 Measurement Specialties, Inc. (NASDAQ: MEAS) is now bringing to the industrial, HVAC, electric automotive, process control and related marketplaces rugged, RoHS compliant, temperature pipe probes for measuring pipe surface temperatures. A metal clip is attached to the over-molded copper probe housing allowing the sensor to be easily installed or detached from the pipe. Various clip sizes are available for differing pipe diameters. Standard probes are shipped with an integral, 24 AWG stranded cable and attached Molex connector. The TPE cable has built-in strain relief and varying cable lengths are available.

These probes utilize an NTC thermistor with a response time that is typically less than 5 seconds. Featuring an operating temperature range of -40°C to +125°C, these devices have a tolerance of ±1°C over the range of 25°C to 85°C. Resistance at 25°C is 10,000 ohms while Beta value is 3435K with variance of ±2%. R/T curves and tables can be requested for specific applications.

All two-wire probes pass environmental testing for IP-68 and EN60068-2-38. They easily interface to widely-available instrumentation and can be customized to optimize thermal response. Resultant tolerances on performance increases opportunity for unit-to-unit interchangeability. As the underlying technology exhibits good immunity from electrical noise, the probes can be flexibly integrated into difficult applications.

Measurement Specialties, Inc. designs and manufactures sensors and sensor-based systems. The company produces a wide variety of sensors and transducers to measure precise ranges of physical characteristics such as pressure, force, vibration, torque, position, temperature, humidity, fluid properties, mass air flow and photo optics. Measurement Specialties uses multiple advanced technologies - including piezo-resistive, electro-optic, electro-magnetic, variable reluctance, magneto resistive, digital encoders, thermistors, thermocouples, RTDs, capacitive, resonant beam, application specific integrated circuits (ASICs), micro-electromechanical systems (MEMS), piezoelectric polymers and strain gauges to engineer sensors that operate accurately and cost-effectively in customers' applications.

For more information about Measurement Specialties and our products, email temperature.cs.emea@meas-spec.com or visit us at www.meas-spec.com.


More from Test & Measurement