Temperature Indicating Labels have low-profile design.
Press Release Summary: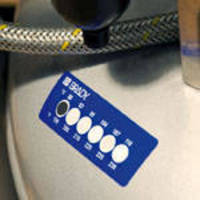 Available in 4 different legend types, irreversible temperature indicating labels are designed to provide continuous monitoring and permanent record of temperature levels for equipment. Adhesive sticks to any type of surface, can withstand harsh environments, and can adhere to dirty or uneven surfaces. Available in single-, four-, and six-level versions, labels are suited for temporary installations and for use with components and surfaces in tight spaces.
---
Original Press Release:

Brady Debuts Temperature Indicating Labels for Equipment Temperature Monitoring



Heat sensor labels provide cost-effective way to monitor and record equipment temperature

Milwaukee, WI - Brady Worldwide, Inc. has introduced a new series of temperature indicating labels that can permanently document the temperature levels of a piece of equipment during operation. The irreversible temperature indicating labels are a quick, easy and cost-effective solution for monitoring the temperature of equipment in the motor, aerospace, laboratory, pharmaceutical and computer/electronics industries.

o Heat sensor labels provide continuous temperature monitoring, permanent recording

Brady's new temperature indicating labels are designed to provide a permanent record of temperature levels for a piece of equipment. The labels are placed directly onto the equipment; when the equipment reaches a certain temperature, the white area of the label will turn irreversibly black. This color change provides clear evidence of the highest temperature attained for that piece of equipment.

Temperature indicating labels can be used to monitor the temperature of equipment as part of a total preventative maintenance solution. They are commonly used on pieces of equipment that move or rotate, such as electric motors, transformers, brakes, pumps, batteries, circuit boards and boilers.

o Low profile labels provide continuous, uninterrupted temperature monitoring

Because Brady's temperature indicating labels have a low profile, they can be applied on many components and surfaces where typical electronic temperature recording instruments can not feasibly reach. Ideal for temporary installations, these temperature labels provide a non-intrusive labeling solution that is much more practical than installing a costly monitoring system for only a short period of time.

Unlike other temperature recording systems that may be interrupted from main power loss or dead batteries, Brady's temperature indicating labels provide continuous, reliable temperature monitoring without human supervision. They have a strong adhesive that can stick to any type of surface; it can withstand harsh environments and stick to dirty or uneven surfaces. The labels also feature large reading fields that provide for maximum visibility from a distance.

The temperature indicating labels are available in four different legend types, including single level temperature labels, four-level temperature labels and six-level temperature labels.

For more information on Brady's irreversible temperature indicating labels, visit www.bradyid.com/templabels.

About Brady Corporation

Brady Corporation (NYSE: BRC) is an international manufacturer and marketer of complete solutions that identify and protect premises, products and people. Its products include high-performance labels and signs, safety devices, printing systems and software, and precision die-cut materials. Founded in 1914, the company has more than 500,000 customers in electronics, telecommunications, manufacturing, electrical, construction, education, medical and a variety of other industries. Brady is headquartered in Milwaukee and employs more than 7,000 people at operations in the Americas, Europe and Asia/Pacific. Brady's fiscal 2009 sales were approximately $1.2 billion. More information about Brady Corporation is available at www.bradycorp.com and to learn more about Brady's complete line of products and offers visit www.bradyid.com. In Canada visit www.bradycanada.com.


More from Food Processing & Preparation