Telescoping Stacking Conveyor switches modes in minutes.
Press Release Summary: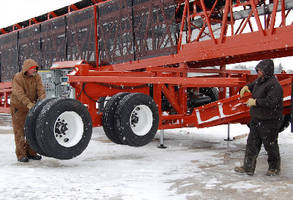 Replacing chains and sprockets with pre-installed t-handle mechanism, Swing Axle XTP TeleStacker Conveyor shifts from road to radial mode in 5-10 min. Power travel system takes just seconds to engage and needs no maintenance or guarding. In addition, axle design minimizes link arms required during transport and operational modes, while pivoting walking beam allows for true wheel alignment during radial travel.
---
Original Press Release:

Design Changes Cut 80% from Setup of Superior's Swing Axle TeleStacker® Conveyor



Superior Industries, North America's only combination manufacturer of conveyor systems and their related accessories, says its engineers cut major setup time required to transition a Swing Axle TeleStacker Conveyor from transport to radial positions. The new Swing Axle XTP TeleStacker Conveyor shifts from road to radial mode in just five to ten minutes. That is compared to 45 to 60 minutes for the original model, a design still common to competitive swing axle telescopic conveyors.



Three key design features characterize the next generation Swing Axle XTP. First, to engage the stacker's power travel, chains and sprockets are replaced with a pre-installed t-handle mechanism. While the chain and sprocket arrangement takes up to 30 minutes to install, requires maintenance and can be tricky to guard, the new power travel system takes just seconds to engage and needs no maintenance or guarding.



Secondly, the new axle design requires fewer link arms during both transport and operational modes. This modification again helps to reduce setup time. Lastly, the addition of a pivoting walking beam allows for true wheel alignment during radial travel. Poor alignment results in tire scuffing and can even cause a conveyor's feed point to shift out of position.



The 40-year-old conveyor manufacturer produced a video to help show the new design in an everyday working environment at superior-ind.com.



First generation Swing Axle models can be retrofitted with the new Swing Axle XTP. The company also builds models for highly portable applications, extreme capacities, highly mobile terminals and applications that require tracked travel capabilities.



About Superior Industries

Superior Industries has a reputation of engineering and manufacturing groundbreaking, bulk material handling conveyors and cutting-edge conveyor components. From its headquarters in Minnesota, U.S.A., the manufacturer supplies stackers, transfer conveyors, ship loaders and stationary systems; plus idlers, pulleys and accessories to lower operating costs and increase production. The company manufactures from additional plants in Arizona and Georgia, U.S.A.



Contact Superior Industries at 315 East Highway 28, Morris, MN 56267, USA, call 1-320-589-2406 or e-mail info@superior-ind.com. Fans and customers can also connect with Superior at superior-ind.com; via the company's blog, Channel 72; on Facebook; via Twitter; or YouTube.



For more information, contact:

Corey Poppe, Marketing Manager

315 East State Highway 28

Morris, Minnesota 56267 USA

1-320-589-2406

corey.poppe@superior-ind.com

www.superior-ind.com

More from HVAC