Telescopic Mobile Straddle Crane eliminates need for hoists.
Press Release Summary: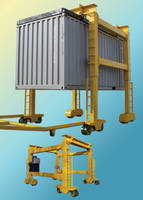 Designed for indoor/outdoor use, Tele-Mast hydraulically operated crane can carry loads up to 50,000 lb through 12 x 12 ft overhead door and straddle flat bed or semi truck. Four telescopic masts are synchronized for level as well as uniform lifting and positioning, and dual wide-flanged I-beams are equipped with 4 laterally adjustable lifting hooks. Able to lift loads up to 120 in., crane travels on 16 polyurethane wheels to protect floor from damage.
---
Original Press Release:

Tele-Mast Mobile Straddle Crane



Telescopic Mast Eliminates Need for Expensive Hoists

Mentor, Ohio - Air Technical Industries announces the development of a new and one of a kind compact - economical Telescopic Mast Straddle Crane. The crane is mobile, designed for indoor-outdoor use. It is compact and can carry a variety of loads up to 50,000 lbs such as gen-packs or 20' shipping containers through a 12' x 12' overhead door. It can straddle a flat bed or a semi truck. It can also lift the load up to 120" high for loading, unloading or transporting large, heavy loads anywhere from one plant bay to another.

The crane is hydraulically operated with four telescopic masts synchronized for level and uniform lifting and positioning. The hydraulic cylinders are enclosed and the plumbing to the cylinders and control valves are all enclosed & protected.

The "Tele-Mast" slides on bearing material for smooth and easy telescopic action - even in the toughest industrial environment. The uniform level lifting is synchronized by precision-built hydraulic flow dividers, and it zeros in automatically each time the unit is fully lowered.

The two heavy wide-flanged I-beams are equipped with four laterally adjustable lifting hooks. Hook heights start at 105" lowered position with a minimum of 72" vertical lift and 177" raised height. Optional cable lift is available; four cables, one at each leg with hooks that will lift from 28" off the floor, a minimum of 144" vertical lift, to a height of 172" or higher.

For longitudinal spread adjustments, there are two adjustable cross beams with two plate hooks, each to allow hook placement anywhere from very center of the straddle crane, for smaller loads requiring handling.

Optional lifting forks with telescopic vertical arms provides versatility, these forks are inserted into fork socket for lifting shipping containers, large air conditioning units or gen-packs.

The unit featured is electrically powered by 440 volt / 3 phase motor, for indoor use or close vicinity of the building where power is available. The electric power provides clean, quiet, odorless power, no smoke and fume free for indoor use. Optional propane engine, gasoline or diesel are also available.

The unit travels on sixteen (16) polyurethane wheel. The multiple wheel configuration spreads out the loading to protect your floor from damage.

The propulsion on the economy model is provided by the user's own tow truck or fork truck. Completely self-propelled units are available with power steering providing self-sufficient operation.

Standard controls are pendant push-button remote control for lifting and lowering. Wireless radio remote control is also available.

The capacity of the unit shown is 50,000 lbs, inside leg span is 114", lifting hook height is from 105" up to 177", with cable lifts from hook height at 28" vertical lift 144" and raised height of 172". Overall length of the unit is 184". Other lift heights available are up to 20', 24', 28' height. Spans are available 12', 16' and 20'.

The self-propulsion is hydraulically operated. It is available with two-wheel or four-wheel drive to meet the operating condition of the floor and grade slope. The unit is built of heavy steel welded construction, its modular design is simple and easy to assemble.

The Tele-Mast Straddle Crane is an ideal tool for bringing large lifting and transporting applications down to a manageable size.

http://www.airtechnical.com/main.php?page=Straddle-news.html


More from Transportation Industry Products