Telescopic Boom supports platform loads up to 1,250 lb.
Press Release Summary: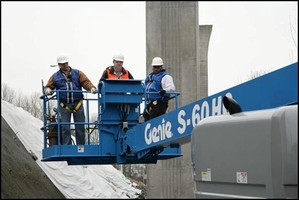 Model S-60 HC telescopic boom offers 40 ft 8 in. of outreach and can hold up to 3 people and gear. Platform provides full range of motion up to 750 lb. Suitable for moving loads and people in and out of hard to reach areas, product accommodates movie and theatre business, and mechanical contractors, glazers, and brick layers.
---
Original Press Release:

Genie's New S-Series High Capacity Boom Option Delivers the Highest Capacities in the Industry



REDMOND, WASH (Feb. 5 2006) - Genie Industries announces its new S-Series high capacity boom option. Set to debut at the 2006 American Rental Association (ARA) trade show, Feb. 7-9, at the Orange County Convention Center in Orlando, the new and innovative technology delivers the highest capacities in the industry and is currently available on the S-60 HC telescopic boom.

Offering 25% to 50% more load capacity than the competition
Genie's new S-60 HC telescopic boom delivers the highest capacities in the industry. According to Genie product management, "The closest competitive unit holds up to two people in what is referred to as a 'dual capacity' unit which offers 500 lbs unrestricted and 1,000 lbs restricted range of motion. The platform on Genie's new S-60 HC offers a full range of motion up to 750 lbs, for 50 percent more load capacity. It also supports platform loads up to 1,250 lbs, for 25 percent more load capacity. That's 40 ft 8 in of outreach, including up to three people and gear. There are no other products out there that provide that kind of reach with that kind of weight."

Penetrating new and existing markets
Ideal for a wide range of applications, the S-60 HC puts Genie in a position to strengthen its presence in the marketplace. According to Genie product management, "Our new high capacity boom option gives us a leg up on the competition, allowing us to go into the movie and theatre business with a very competitive story. Gaffers and grips are certain to appreciate the added capacity of our units and the time they'll save by being able to transport and position more equipment and more people than ever before. The new high capacity boom option is also ideal for mechanical contractors, glazers, brick layers, and others looking to move higher loads and up to three people into an out of hard to reach areas."

While the S-60 HC is the first model to feature the high capacity boom option, the option will be available across the entire S-Series line-up during the third and fourth quarter of 2006.

Headquartered in Redmond, Wash., with branch offices worldwide, Genie Industries manufactures material lifts, aerial work platforms, trailer-mounted booms and light towers, scissor lifts and self-propelled telescopic and articulating booms. Genie Industries, Inc., is a subsidiary of Terex Corporation (NYSE: TEX), a diversified global manufacturer based in Westport, Conn.

Contact: Tammi Anderson
Phone: 425-556-6511
FAX: 425-556-6535
Email: andert@genieind.com
Web: www.genieind.com

More from Optics & Photonics