TekTone® Offers Crest Elite Infrared Pillow Speaker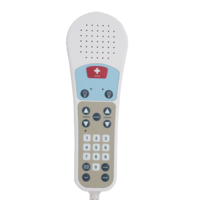 Dassel, Minn., June 19, 2019— Crest Healthcare announced today that TekTone® Sound & Signal Mfg. ("TekTone") has agreed to offer a version of Crest's Elite Infrared® pillow speaker for use with its TekTone's Tek-Care® nurse call systems. The pillow speaker features a built-in universal IR television remote, allowing for the control of consumer-grade televisions from the resident bedside.
"This is an exciting new feature for healthcare facilities where hospital-grade televisions are not required, but residents would still like the ability to control their TV, lighting and communicate with staff all from one device", said TekTone in its Product Release Bulletin dated June 18, 2019.
Tim Kuck, President & CEO of Crest, said that "TekTone is a great partner and we are pleased that they will be offering this UL® Listed, feature rich, Crest patented product to their healthcare facility customers. We look forward to continuing to expand our relationship with TekTone.
For further information, please contact TekTone Sales Department at 800.327.8466, option 2 or contact Crest Customer Service at 800.328.8908.
About Crest Healthcare
Crest Healthcare is a leading provider of a wide range of products and technical services that enhance the care environment experienced by patients and their families and caregivers. Healthcare provider customers enjoy superior service and support to manage the complete patient environment, including nurse call systems, healthcare TVs, patient safety, mobility and comfort equipment, bed and room supplies, medical devices and general facility needs. Crest designs and produces proprietary products and partners with other manufacturers and distributors to bring innovation and quality patient outcomes in the delivery of healthcare services. Founded in 1967, Crest Healthcare is headquartered in Dassel, MN, and is an ISO 13485:2016 certified manufacturer of FDA registered Pillow Speakers, Nurse Call Stations, Nurse Call Cords and Bed Control Equipment.
Contact:
Kellie Traeger
Marketing Communications Manager
320-275-3382, x1023
Fax: 320-275-2306
P.O. Box 727
195 Third St. S.
Dassel, MN  55325