Teknor Apex Company Introduces a New Series of Medical-Grade Thermoplastic Elastomers for Peristaltic Pump Tubing
Press Release Summary: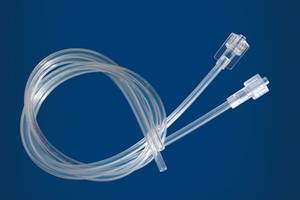 Teknor Apex Company's new series of TPEs provides elasticity over a temperature range and is weldable and heat-sealable. The series features clear, opaque, and translucent grades for medical infusion systems, dialysis machines, and biotech and pharmaceutical industries. 
---
Original Press Release:
New Medical-Grade TPEs Provide Elasticity and Durability for Tubing in a Wide Range of Peristaltic Pump Applications
Medalist® TPEs from Teknor Apex Are Flexible over a Broad Range of Temperatures, Exhibit Low Particulate Spallation, and Are Weldable and Heat-Sealable
PAWTUCKET, RI, U.S.A., September 10, 2018: A new series of medical-grade thermoplastic elastomers (TPEs) for peristaltic pump tubing provides elasticity over a broad temperature range, withstands stresses of pump action over time, and, unlike silicone, are weldable and heat-sealable.    
The new series of Medalist® compounds from Teknor Apex Company includes clear, translucent, and opaque grades for the biotech and pharmaceutical industries, medical infusion systems, and dialysis machines (see table). In comparison with other TPEs, the Medalist TPEs exhibit lower levels of spallation—the shedding of particles from the inner surface of the tubing caused by repeated compression and release during pump operation. The elasticity of these compounds allows tubing to keep pace with rapid pump action, and their durability enables it to retains its shape and remain intact over time.
The Medalist compounds exhibit a low level of extractables, are compatible with a broad range of chemicals, and can be sterilized by e-beam, gamma, and ethylene oxide. Specialty grades are available for biopharmaceutical applications with extreme low-temperature requirements.
"The new Medalist compounds for peristaltic pump applications are extremely durable and provide reliable performance over a wide range of service temperatures," said Ross van Royen, senior market manager of regulated products. "They are based on proven technology developed in cooperation with device OEMs and processors and exhibit excellent extrusion rates."
Teknor Apex produces Medalist compounds in ISO-13485 facilities in the USA and Singapore. The new materials are made with FDA listed ingredients, are certified to ISO 10993-5 standards for biocompatibility, and are REACH SVHC compliant. They are free of DEHP and other phthalates, BPA, and latex. Standard grades are ADM-free.
About Teknor Apex. Teknor Apex Company, a privately held firm founded in 1924, is one of the world's leading custom compounders of plastics.  Teknor Apex produces flexible and rigid vinyl, thermoplastic elastomers, nylons, color masterbatches, specialty chemicals, and hoses. The company is headquartered in Pawtucket, RI, U.S.A. and operates thirteen manufacturing facilities worldwide in the United States, Belgium, Germany, China, and Singapore. To learn more visit: www.teknorapex.com.
The Thermoplastic Elastomer Division of Teknor Apex Company offers the broadest portfolio of TPE compounds available from a single source. The division compounds TPEs at eight locations in the U.S., Europe, and Asia under the brands: Elexar® (electrical and electronics applications), Medalist® (medical devices), Monprene® (consumer and industrial products), and Sarlink® (transportation).
READER INQUIRY INFORMATION:  Americas: Teknor Apex, 505 Central Avenue, Pawtucket, RI  02861 U.S.A.  Tel: 1-401-725-8000. Tel. from U.S. only: 1-866-GET-TPEs (1-866-438-8737).  Fax: 1-401-728-5680. E-mail: tpe@teknorapex.com. Europe: Teknor Apex, Mijnweg 1, 6167AC, Geleen, Netherlands. Tel: 31 (0) 46-7020950. Email: eutpe@teknorapex.com.  Asia: Teknor Apex Asia Pacific, 41 Shipyard Road, Singapore 628134.  Tel: 65-6265-2544.  Fax: 65-6265-1821.  Email: apactpe@teknorapex.com.    
More from Architectural & Civil Engineering Products