TDM Shopfloor Manager Software can be configurable as per user needs.
Press Release Summary: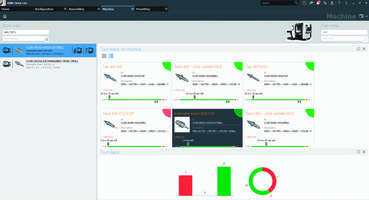 TDM Shopfloor Manager Software records entirety of tools circulations i.e., from tool assembly planning, presetting tool use at the machine to disassembling. This module allows operator to add additional tasks at appropriate stages through interface provided.
---
Original Press Release:
New TDM Shopfloor Manager in TDM 2017 Global Line from TDM Systems Delivers Maximum Flexibility
TDM Systems, a subsidiary of Sandvik Machining Solutions has announced the introduction of TDM Shopfloor Manager in TDM 2017 Global Line. The Shopfloor Manager software module records the entirety of a tool's circulation, from planning for tool assembly, presetting and tool use at the machine, to disassembling. In addition, the modular design of the software allows it to be easily configurable for an individual user needs.
Many companies combine assembly and presetting together in a tool room, for example. In this case, the tool room cost center can be represented, and all necessary actions summarized on a single screen. It is also possible to assign a presetting to a machine in the configuration.
"We work directly with the customer to analyze their data flow on the shop-floor level and map it out perfectly," said Volker Schwegler, Senior Consultant and Product Manager at TDM Systems. "Until now, tools were issued and then re-issued between the machine and the crib."Today, we can decide on tools as early as the tool assembly and presetting stages. Thus, we directly map out the actual, physical tool flow."
Another feature of TDM Shopfloor Manager is that the operator's work is also made simpler. The fundamental principle is the "to do" list. The operator ticks off each task step by step. Additional tasks are simply added to the list at the appropriate stages of the process. This is carried out via an interface with a modern design which the user can mostly put together themselves.
Schwegler added, "We know exactly what needs to happen with a tool so that it can be used. Now we can assign these tasks in such a way that it suits each customer."
In addition, the TDM Shopfloor Manager is fully integrated into the inventory management system of the TDM Tool Crib Module Global Line. In the future, even tool assemblies in secondary cribs can be managed. This is important, for example, to those whom the array of parts they manufacture is changing constantly. With the Tool Crib Module, a tool assembly can also be managed in secondary cribs near the machines.
For more than 25 years, TDM Systems has been the leading provider of tool data management in the machining industry. With the Tool Lifecycle Management strategy, TDM Systems is focusing on process optimization through optimal tool planning and provisioning. Creating and editing tool data and graphics, integrating tool know-how and 3D graphics into the CAM planning and organizing the complete tool cycle on the shop floor level are the three core competencies of TDM Systems. As a competence center within the Sandvik Group, TDM Systems draws on the expertise of various tool manufacturers in developing its software products. www.tdmsystems.com
More from Mechanical Power Transmission