TDK Reports Successfully Shipped Prototype HDD-Heads with Next Generation Recording Technology, MAS-MAMR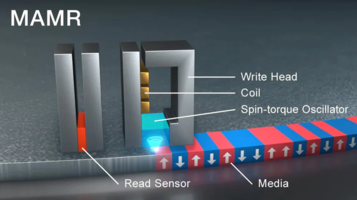 January 7, 2022 -- TDK Corporation (TSE:6762) announces that it has successfully shipped prototype heads with next generation recording technology, MAS-MAMR, which is co-developed with Toshiba Corporate R&D Center and Toshiba Electric Devices & Storage Corporation. Showa Denko K.K. (SDK) produced the media for this technology in a three-way collaboration geared towards advancing HDD capacity in the marketplace.
TDK already introduced the industry's first Spin Torque element based recording technology into Toshiba's 18TB HDD, which started production in 2021. MAS-MAMR would constitute the 2nd generation Spin Torque assisted head for the recording industry, which is aimed for more than 24 TB HDD. It utilizes the ferromagnetic coupled resonance effect from twin Spin Torque element layers inside the write head acting on the media recording layer, referred to as the MAS effect. In collaboration with Toshiba and SDK, TDK has demonstrated that the write-ability can be significantly improved. TDK has been studying the optimal twin element structure that can be fitted into the write gap for MAS-MAMR. It is expected that this technology can be extended up to 30TB HDDs.
Glossary
MAMR: Microwave Assisted Magnetic Recording
MAS-MAMR: Microwave Assisted Switching Microwave Assisted Magnetic Recording
Spin Torque element: Magnetic Layer that responds to spin polarized current
Main applications
Main features and benefits
Improved media write-ability at high recording densities
About TDK Corporation
TDK Corporation is a world leader in electronic solutions for the smart society based in Tokyo, Japan. Built on a foundation of material sciences mastery, TDK welcomes societal transformation by resolutely remaining at the forefront of technological evolution and deliberately "Attracting Tomorrow." It was established in 1935 to commercialize ferrite, a key material in electronic and magnetic products. TDK's comprehensive, innovation-driven portfolio features passive components such as ceramic, aluminum electrolytic and film capacitors, as well as magnetics, high-frequency, and piezo and protection devices. The product spectrum also includes sensors and sensor systems such as temperature and pressure, magnetic, and MEMS sensors. In addition, TDK provides power supplies and energy devices, magnetic heads and more. These products are marketed under the product brands TDK, EPCOS, InvenSense, Micronas, Tronics and TDK-Lambda. TDK focuses on demanding markets in automotive, industrial and consumer electronics, and information and communication technology. The company has a network of design and manufacturing locations and sales offices in Asia, Europe, and in North and South America. In fiscal 2020, TDK posted total sales of USD 13.3 billion and employed about 129,000 people worldwide.
Contacts for Regional Media:
Japan
Mr. Yoichi OSUGA
TDK Corporation
Tokyo, Japan
+813 6778-1055
pr@jp.tdk.com
ASEAN
Ms. Jiang MAN
Ms. Pei Lu LEE
TDK Singapore (Pte) Ltd.
Singapore
+65 6273 5022
asean.inquiry@sg.tdk.com
Greater China
Ms. Clover XU
TDK China Co., Ltd.
Shanghai, China
+86 21 61962307
pr@cn.tdk.com
Europe
Mr. Frank TRAMPNAU
TDK Management Services GmbH
Duesseldorf, Germany
+49 211 9077 127
frank.trampnau@managementservices.tdk.com
America
Ms. Sara M. LAMBETH
TDK Corporation of America
Irving, TX, USA
+1-972-409-4519
sara.lambeth@us.tdk.com