Temperature Sensors / Detectors / Transducers
TDK Launches K525 NTC Temperature Sensor with 4 kV AC Voltage Strength
Press Release Summary: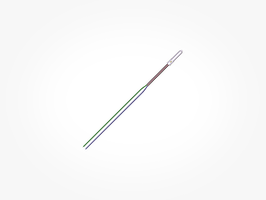 The K525 NTC Temperature Sensor is suitable for industrial and automotive electronics applications. The sensor is designed for a measuring range from -10°C to +300°C and offers a response time of 1.2 s. It provides resistance of 48.5 kΩ and 3.3 kΩ at 25°C and 100°C temperature respectively. The sensor comes with ceramic encapsulation and is resistant to media such as aggressive acids and bases.
---
Original Press Release:
NTC Thermistors: Robust Temperature Sensor for Up to 300°C
TDK Corporation (TSE:6762) presents the K525, a new EPCOS NTC temperature sensor that is designed for the extended measuring range from -10 °C up to +300 °C. Thanks to its ceramic sleeve that is filled with a ceramic, the sensor is suitable for applications under harsh operating conditions and is resistant to aggressive media such as acids and bases. The response time is only 1.2 s, allowing measurements to be made even with fast temperature changes. The resistance at 25 °C is about 48.5 kΩ, at 100 °C about 3.3 kΩ, and the B value (20/100) is nearly 4000 K.
Electrically, the sensor is designed for a high level of safety and passes a high-voltage test at 4 kV AC that results in a maximum leakage current of just 0.1 mA. Thanks to the combination of its wide measuring range and a rugged ceramic enclosure, the new sensor is suitable for a wide variety of applications in industrial and automotive electronics. Furthermore, it can also be used in household appliances.
Main applications
Industrial and automotive electronics
Household appliances
Main features and benefits
Wide measurement range from -10 °C to +300 °C
Robust ceramic encapsulation and therefore resistant to aggressive media such as acids and bases
High voltage strength of 4 kV AC
For further information contact our Sales department at www.tdk-electronics.tdk.com/inquiry. 
About TDK Corporation
TDK Corporation is a leading electronics company based in Tokyo, Japan. It was established in 1935 to commercialize ferrite, a key material in electronic and magnetic products. TDK's comprehensive portfolio features passive components such as ceramic, aluminum electrolytic and film capacitors, as well as magnetics, high-frequency, and piezo and protection devices. The product spectrum also includes sensors and sensor systems such as temperature and pressure, magnetic, and MEMS sensors. In addition, TDK provides power supplies and energy devices, magnetic heads and more. These products are marketed under the product brands TDK, EPCOS, InvenSense, Micronas, Tronics and TDK-Lambda. TDK focuses on demanding markets in the areas of information and communication technology and automotive, industrial and consumer electronics. The company has a network of design and manufacturing locations and sales offices in Asia, Europe, and in North and South America. In fiscal 2018, TDK posted total sales of USD 12 billion and employed about 103,000 people worldwide.
More from Services