TCM Series Common Mode Chokes meet UL94-V0 rating.
Press Release Summary: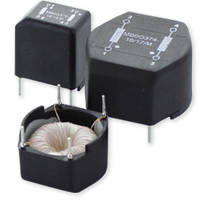 Suitable for applications in aviation, defense, transportation and battery management systems, TCM Series of Common Mode Chokes provide inductance of 0.7 mH to 47 mH. Having 0.3 A to 4 A RMS current range, units operate in -55°C to +125°C temperature range. Available in through-hole package for horizontal and vertical mounting, device offers 1,500VAC dielectric withstanding strength and high mechanical resistance.
---
Original Press Release:
New Yorker Electronics to Supply New Line of Aerospace-Grade Common Mode Chokes
New Exxelia Magnetics TCM Series Designed to Excel in Harsh Aerospace Conditions
New Yorker Electronics is now distributing the brand new Exxelia Magnetics TCM Series of Common Mode Chokes. The series, just unveiled last month in Munich at Electronica, is designed and qualified to be compatible with aerospace applications and is a cost-effective solution for harsh environments.
TCM common-mode chokes are offered with inductances from 0.7mH to 47mH under rated currents from 0.3A to 4A, and thoroughly tested by a dielectric withstanding strength at 1,500VAC. Their excellent thermal properties allow the TCMs to operate without a hitch from -55°C up to +125°C which, combined with the high mechanical resistance of the component materials, make those products useful for aviation, defense and transportation industries. All materials meet UL94 V0 ratings and the devices fully comply with the requirements of RoHS and REACH.
TCM series can be designed into circuit boards on a large number of power electronic devices used for a wide range of applications, including switch mode power supplies and converters, inverters, battery management systems and chargers. The TCM series is available in a through-hole package for horizontal and vertical mounting.
Features & Benefits:
Aerospace Compliant
Through-Hole Package
RMS Current Range from 0.3A to 4A
Dielectric Withstanding Strength - 1500V AC
Materials Meet UL94-V0 Rating
Operating Temperature Range: -55°C to +125°C
High mechanical resistance
Applications:
Aviation
Defense
Transportation
Switch Mode Power Supplies
Converters and Inverters
Battery Management Systems
Chargers
New Yorker Electronics is franchise distributor of Exxelia Magnetics (ex-Microspire), part of Exxelia Group, and supplies its full line of Film, Mica, Tantalum, Aluminum Electrolytics and Ceramic Capacitors as well as its EMI/RFI Filters, Magnetics, Position Sensors, Slip Rings and Rotary Joints.
ABOUT NEW YORKER ELECTRONICS
New Yorker Electronics is a certified franchised distributor of electronic components, well known for its full product lines, large inventories and competitive pricing since 1948. New Yorker Electronics is an AS9120 and ISO 9001:2015 certified source of capacitors, resistors, semi-conductors, connectors, filters, inductors and more, and operates entirely at heightened military and aerospace performance levels. It also functions in strict accordance with AS5553 and AS6496 standards - verifying that it has implemented industry standards into everyday practices to thwart the proliferation of counterfeit parts. It is a member of ECIA (Electronics Component Industry Association) and of ERAI (Electronic Resellers Association International).
CONTACT:
M. Pappas
NEW YORKER ELECTRONICS CO., INC.
209 Industrial Parkway
Northvale, NJ 07647
201-750-1171 x330
201-750-1174 (F)
More from Material Handling & Storage