Tapping Machine taps 4000 holes per hour.
Press Release Summary: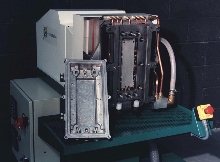 RapidTap can tap 18 holes with 3 different pitches simultaneously in aluminum alloy die-casting. Semi-automatic design minimizes operator fatigue and ensures every hole is tapped, eliminating human error. RapidTap is powered by 3-phase inverter, providing necessary torque. Inverter control allows rpm to be increased or decreased to suit smaller or larger taps. Machine can be re-tooled and adjusted to produce alternative component.
---
Original Press Release:

4000 Holes Tapped Per Hour


Illinois, 25 June 2002. Centerline Machine Tools Inc has supplied a high production RapidTap machine for tapping 18 holes with three different pitches simultaneously in an aluminum alloy die-casting. The customer is a US subcontractor that casts and machines the components for the Magnavox street lighting cell produced by Philips Broadband Networks.

Those interested will be able to see a RapidTap demonstrated at IMTS this year on the Centerline booth, E-2549, in the Tooling & Workholding Systems Pavilion.

Unusual in this application is the ability to tap all 18 cast holes in one operation, despite their different thread pitches. The correct speed for each spindle is achieved using appropriate gearing in the multi head.

Six holes are 5/16 inch diameter by 18 tpi (threads per inch) requiring 8.5 turns to tap, whilst another six are size 10 by 32 tpi that need nine turns. All these are blind holes. The remainder break into an open core and are 5/16 inch by 24 tpi, requiring six turns. Spiralock taps are used throughout.

The subcontractor, Stroh Die Casting Co Inc of Wisconsin, has used a similar Centerline RapidTap machine since 1994 for another application.

The semi-automatic design minimizes operator fatigue and ensures that every hole is tapped, eliminating the chance of human error. Very high production rates can be achieved, floor-to-floor time in this application being 15 seconds.

The die-casting is inserted into a bespoke fixture that is advanced towards the 18 taps in a Centerline multi head at the front of the RapidTap. When the taps engage, the fixture is pulled in automatically until a rear limit switch reverses the motor controlling the direction of tap rotation. The fixtured component is returned by the tapping action to the start position for unloading.

As the power supply to the RapidTap is through a 3-phase inverter, the high torque necessary for tapping is available. The low cost, off-the-shelf machine can be quickly re-tooled and adjusted to produce an alternative component, and the recently improved inverter control allows the rpm to be increased or decreased to suit smaller or larger taps. The latest model also includes uprated electronics and operator control.

Centerline Machine Tools Inc, P.O. Box 21
McHenry, IL 60051, USA.
Tel: 815-385-0330. Fax: 815-385-0220.
E-mail: Infoa-Centerline-us.com
Web site: Centerline-us.com
Contact: Keith Millner


More from Fluid & Gas Flow Equipment