Tapered Roller Bearing Units feature sealed housings.
Press Release Summary: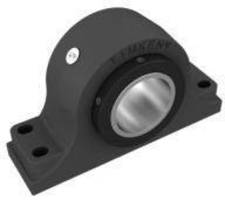 Designed to reduce maintenance efforts and increase machinery uptime in environments subject to temperature fluctuations, debris, and vibration, Type E units have double lip seals, corrosion-resistant housings, and locking collars. All 2- and 4-bolt pillow blocks, 4-bolt and piloted flange units, and wide angle and top angle take up units feature Timken® Premium All-Purpose Industrial Grease, which contains corrosion inhibitors and extreme pressure and anti-wear additives.
---
Original Press Release:

New Tapered Roller Bearing Housed Units from Timken Set Standard for Reliable Operation



CANTON, Ohio -- The Timken Company (NYSE: TKR) is introducing a new line of Type E tapered roller bearing housed units that set a new performance standard for industrial bearings.

"We expect this new design to help cut our customers' maintenance costs while increasing their machinery uptime, which we know is most important to them," said Mike Connors, vice president, Distribution. "We're not only raising the industry standard with this new product, we're affirming our leadership by demonstrating our commitment to investing in technology of greatest benefit to our customers."

The new housed units are ideal for rugged applications, such as in material-handling and processing equipment. They feature enhanced-performance bearings, double lip seals, corrosion-resistant housings and locking collars - all of which provide advanced operating levels compared to current industry-leading designs utilizing standard Timken bearings. Features include:

-- 55 percent longer design life
-- 10 times more sealing ability
-- Superior corrosion resistance

Material-handling equipment used in industrial processes such as aggregate, cement, mining, power generation, pulp and paper, mixing/vibrating, ovens/furnaces, water treatment and waste-water treatment are frequently subjected to harsh environments such as extreme temperature fluctuations, heavy debris and excessive vibration. Timken has designed the new housed units to withstand the harshest conditions. As a result, the new Timken tapered roller bearing housed units help reduce unscheduled downtime and lower overall costs often associated with these difficult operating environments.

"This product is in direct response to market demand from original equipment manufacturers," noted Hans Landin, director, Process Industries OE. "They know and trust our expertise in friction management and were looking to us for help in developing a tapered roller bearing housed unit that delivers the value and reliability they need."

The tapered roller bearings used in Timken® Type E pillow blocks have surface textures and optimized profiles that contribute to a 55 percent increase in design life over industry-standard housed units equipped with standard Timken bearings. Timken has also added a double lip seal design to significantly reduce contaminant ingress over competing products. Timken's new model also helps promote greater grease retention.

Electro-deposition coating, or e-coating, on both the housings and locking collars helps protect exposed surfaces and provides better corrosion resistance than the powder coating used on competing designs. Performance also is enhanced because the units come equipped with Timken Premium All-Purpose Industrial Grease, which contains corrosion inhibitors and extreme pressure and anti-wear additives.

The new line includes 2-bolt and 4-bolt pillow blocks, 4-bolt and piloted flange units and wide angle and top angle take up units. The new tapered roller bearing housed units will be sold through Timken's industrial distribution and original equipment channels. An online preview of the product is available via this link: http://ftp.wrladv.com/jhill/timken/type-e24/index.html.

"Timken Type E tapered roller bearing housed units come in a wide range of sizes and configurations to meet demanding industrial applications," added Connors. "Popular part numbers will be in stock beginning in April. We've made it easy for customers to make the switch - our Type E housed units are dimensionally interchangeable with all other leading roller housed unit brands."

Timken Type E tapered products are the latest in Timken's housed unit line, which also includes Fafnir® ball bearing housed units and Timken SAF® pillow blocks.

About The Timken Company

The Timken Company (NYSE:TKR)(NYSE:http://www.timken.com) keeps the world turning, with innovative friction management and power transmission products and services, enabling our customers' machinery to perform more efficiently and reliably. With sales of $3.1 billion in 2009, operations in 26 countries and approximately 17,000 employees, Timken is Where You Turn(TM) for better performance.

Media Contact: Lorrie Paul Crum, Manager - Global Media and Strategic Communications, Mail Code: GNW-37, 1835 Dueber Avenue, S.W., Canton, OH 44706 U.S.A., Office: (330) 471-3514 Mobile: (330) 224-5021, lorrie.crum@timken.com

Investor Contact: Steve Tschiegg, Manager - Investor Relations, Mail Code: GNE-26, 1835 Dueber Avenue, S.W., Canton, OH 44706 U.S.A., Telephone: (330) 471-7446, Facsimile: (330) 471-2797, steve.tschiegg@timken.com

For Additional Information: www.timken.com/media or www.timken.com/investors

More from Architectural & Civil Engineering Products