Tape removes cleanly with no residue.
Press Release Summary: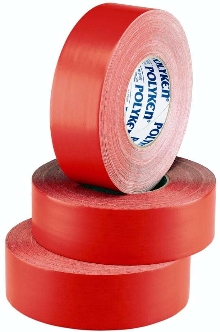 Suited for building trade, Polyken® Stucco 888 Enhanced Masking Material remains attached on jobsite for periods up to 30 days in temperatures to 150°F. Multi-purpose, polyethylene-coated, cloth duct tape withstands UV radiation from sunlight and employs natural, rubber-based adhesive that sticks to rough surfaces. Bright red in color, single-coated, self-wound tape has total thickness of 11.5 mils and tensile strength of 40 lb/in.
---
Original Press Release:

Tyco Plastics & Adhesives Offers Industry-First Tape that Leaves No Residue


Residue-free masking material removes cleanly up to 30 days

PRINCETON, N.J. - Aug. 27, 2004 - Tyco Plastics & Adhesives, a Tyco International company (NYSE: TYC), introduces the first residue-free tape for the building trade industry that offers clean removal up to 30 days after application. Polyken® Stucco 888 Enhanced Masking Material is a highly formulated adhesive that masks window frames, stucco, plastering, concrete, masonry and any other applications where UV-resistant and residue-free properties are needed.

Manufactured by Tyco Adhesives, a business unit of Tyco Plastics & Adhesives, the multi-purpose cloth duct tape is excellent for outdoor masking applications. Its unique construction withstands ultraviolet radiation from sunlight, making Polyken Stucco 888 ideal for extended exposure applications. The polyethylene-coated cloth with UV-blocking layer provides a high thread count for strength and a thick backing for increased durability. The natural rubber-based adhesive offers durable holding power, even on rough surfaces.

"Polyken Stucco 888 was specifically designed so that it can remain attached on the jobsite for extended periods of up to 30 days, in temperatures reaching up to 150 degrees Fahrenheit," said Vinita Sharma, marketing manager for the industrial segment of Tyco Plastics & Adhesives. "Even when it's exposed to sunlight and the elements, it removes cleanly and easily without leaving residue. Polyken Stucco 888 is truly an industry-first product that gives customers a high-quality, engineered solution to meet demanding requirements."

Polyken Stucco 888 is easy to unwind, tear and apply. Its bright red color is highly visible. The single-coated, self-wound tape is manufactured in a variety of lengths and widths with a total thickness of 11.5 mils. Polyken Stucco 888 has an adhesion-to-steel rate of 65 oz./in. and a tensile strength of 40 lbs./in.

For more information on Polyken Stucco 888 or to request a product sample, call (800) 343-7875 or visit www.tycoadhesives.com.

Tyco Adhesives (www.tycoadhesives.com) is a global leader in the manufacture of adhesive and corrosion protection products, providing solutions to customers for more than 50 years. Tyco Adhesives is the world's largest producer of duct and cloth tapes. Its tape and adhesive products are used in a variety of markets, including medical, industrial, aerospace, automotive, packaging, HVAC, construction and retail. Tyco Plastics & Adhesives is a leading global manufacturer of plastic film, specialty tapes and adhesives, coated products, garment hangers and disposable serviceware. It is comprised of four business units: A&E Products Group, Ludlow Coated Products, Tyco Plastics and Tyco Adhesives. In 2003, Tyco Plastics & Adhesives generated $1.9 billion in revenue while employing more than 10,000 people worldwide.

Tyco International Ltd. is a global, diversified company that provides vital products and services to customers in five business segments: Fire & Security, Electronics, Healthcare, Engineered Products & Services, and Plastics & Adhesives. With 2003 revenue of $37 billion, Tyco employs 260,000 people worldwide. More information on Tyco can be found at www.tyco.com.

For more information or photo requests, please contact:

Jay Pomeroy
Tyco Plastics & Adhesives
(609) 720-5425
jpomeroy@tyco.com

More from Electrical Equipment & Systems