Tape Gun utilizes thermal cutting technique.
Press Release Summary: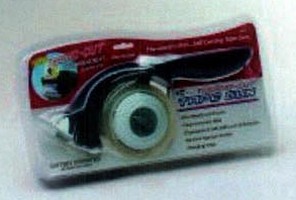 Handheld, battery-operated Thermo-Cut(TM) Tape Gun (Product No. 58000) uses heat-shear technology to melt packing tape in order to perform safe and accurate cuts, eliminating use of potentially harmful cutting blades. Able to be used with either hand, ergonomically designed product performs thousands of cuts with power supplied from one set of AA batteries and does not leave messy residue.
---
Original Press Release:

InnoDesk Introduces the World's First Thermal Cutting Tape Gun



A Revolution for the Packing and Office Supply Industries

January 24, 2006-Innodesk Inc., the company that created the handheld, battery-operated business tool category, proudly introduces its new Thermo-Cut(TM) Tape Gun. The only product of its kind, the Thermo-Cut(TM) Tape Gun is designed with new technology that eliminates the potentially harmful cutting blades used in conventional tape guns. With the touch of a button, the Thermo-Cut(TM) uses heat-shear technology to effortlessly cut packing tape safely and accurately.

"Our mission at InnoDesk is to use advanced technology and innovative design to make life at home, school and the office more convenient and productive. With its unique, patent-pending features, our new Thermo-Cut(TM) Tape Gun will make packing boxes safer and easier than ever," said Anthony Lammers, President and CEO of InnoDesk. "Our goal in developing the Thermo-Cut(TM) was to improve functionality for anyone who uses a tape gun...whether it's once in a while or every day. We also realized that this technology could potentially reduce the number of injuries caused by the sharp cutting blades on conventional tape guns. Finally, we wanted a strong, durable product that could be used in warehouses and shipping departments, as well as in the home or office. We are proud to say that the Thermo-Cut(TM) Tape Gun accomplishes all these goals."

Incredibly easy to use with either hand, the ergonomically designed Thermo-Cut(TM) is a lightweight, economical improvement over conventional tape guns. One set of batteries will safely make thousands of "cuts" at the touch of a button...with no harmful cutting blade. Batteries and a standard 3" core of packing tape are included.

Headquartered in Cleveland, OH, InnoDesk brand products are sold nationally by leading office supply chains, fine stationers and national mass market retailers. To find out more and see the complete InnoDesk product line, visit www.innodesk.com.

Come see us at the NA 06 Material Handling Show, Booth #749

The World's First Self Cutting Tape Gun!!!

Effortlessly cuts with just a touch of a button!

o Thousands of cuts with only one set of standard batteries
o There are no harmful cutting blades!
o Lightweight and Sturdy
o Brand New Technology which enables the Thermo-Cut tape gun to melt the tape instead of cutting it with a Blade
o No messy residue

Product No.     Description           Packed     Your Price        Order Qty.

58000       Thermo-Cut Tape Gun     4 per      17.50 ea

                                    Inner

          3" Standard Roll of tape &

          Standard AA Batteries

          included
More from Machinery & Machining Tools