Tape Feeders suit high-speed chip placement equipment.
Press Release Summary: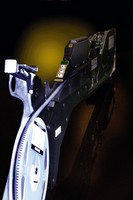 Including PSV sensor that notifies machine and line software when component reels are serviced by operator, High-Performance Gold Feeders support line-level reporting and traceability functionality. They offer continuous splice capability and high speed chip component presentation. Single lane 8 and 12 mm feeders have features for precise and repeatable feeder registration, while 16, 24, and 32 mm high torque mode feeders are designed for large part delivery.
---
Original Press Release:

Universal Launches High-Speed, High Performance Gold Feeder Family



Universal has launched High Performance Gold Feeders, a family of feature-loaded spliceable tape feeders designed to boost the performance of high-speed chip placement equipment, while supporting line-level reporting and traceability functionality.

The new High Performance Gold feeder family offers the benefits of continuous splice capability to significantly improve line yield rates. Customers report throughput gains of up to 30% when utilizing Gold feeders. Reliable high speed chip component presentation is achieved by utilizing a high performance delivery drive train. Single lane 8 and 12mm feeders feature additional registration features to insure precise and repeatable feeder registration, a requirement for proper handling of chip components. A tuned electric drive system insures that Lightning rotary-motion placement head compatible index speeds are achieved while eliminating mechanical adjustments and wear often encountered with mechanically indexed feeders. Gold feeders are equipped to support part setup validation (PSV) and traceability, optimising the Gold feeders for use in demanding industries including medical, automotive, defence and aerospace.

The included PSV sensor notifies the machine and line software whenever component reels are serviced by an operator, further insuring that components are properly loaded while facilitating line level parts inventory management and traceability functions.

"The High Performance Gold Feeders are the back bone of our feeder product line delivering vast improvements in chip component pick performance," explains Universal Feeders Director, Mike Cyr. "By reducing feeder interruptions and improving component delivery performance, the High Performance Gold family has already received accolades from progressive manufacturers operating within the demands of the high-speed chip placement arena." "In addition to the improved performance benefits, manufacturers are able to enjoy the two year warranty coverage included with Gold feeders." "The Gold product family effectively complements the Mid-Range Black family Universal offers to medium volume, flexible production AdVantis platform users."

As a further advancement in feeder capability, the Gold family features High Torque Mode (HTM) for 16mm to 32mm feeders. HTM provides a robust, integrated solution to problems often encountered while feeding large components. Typical tape feeders are designed to run at one fast speed. Alternatively, Gold feeders carefully apply power and torque to reliably index larger reels. The 16mm, 24mm and 32mm Gold Feeders are factory pre-set to deliver higher torque for greater accuracy and large part delivery. When High Torque Mode is not required, users may reset feeders to speed mode.

Universal Instruments is a global electronics productivity specialist, providing innovative circuit, semiconductor, and back-end assembly technologies and equipment, integrated system solutions, and process expertise to manufacturers in every sector of the electronics industry.

Karen Moore Watts
Universal Instruments Corporation
PO Box 825
Binghamton
NY 13902-0825
USA
Tel: +1 607 779 4079
Email: moorek@uic.com
www.uic.com

Related