Tape Feeder features automatic self-loading design.
Press Release Summary: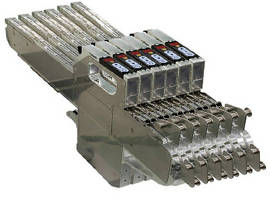 Providing splice-free, continuous operation in SMT component placement industry, 8 mm SL Feeder resolves issues caused by reel splicing, including improperly spliced tape that interrupts production. Unit allows addition of secondary reel supply in same feeder at any time during operation. In addition, SL Feeder accepts strip-tapes, and uses cover tape process that mitigates release of dust and debris inside placement system, minimizing maintenance requirements.
---
Original Press Release:

Hitachi HTI Introduces SL Feeder with Automatic Tape Loading



Dallas, Texas, USA -- The Production Systems Division (PSD) of Hitachi High Technologies America, Inc. (HTA) announces the introduction of the first true innovation in the SMT component placement market in years with the industry's first automatic self-loading feeder, the SL. The 8mm SL Feeder provides splice-free continuous operation and resolves issues that have plagued electronics assembly customers for years caused by component reel splicing, including improperly spliced tape that

interrupts production, and higher material and labor costs. The SL Feeder allows the addition of a secondary reel supply in the same feeder at any time during operation, thus reducing or eliminating unnecessary material costs. Additionally the SL Feeder can accept strip-tapes, further strengthening the Hitachi Sigma G5' Modular Mounter's already formidable NPI capabilities.



"Hitachi's 8mm SL Feeder is a game-changer even if you look at it from a setup standpoint," says Matt Wyglendowski, National Sales Manager. "A conventional feeder, on average, takes one minute to set up while the 8mm SL Feeder can be loaded in ten seconds or less, an 84% decrease in loading time."



"An average PCBA today is usually comprised of 70-75% 8mm devices," he continues. "If your board has 100 unique components and it takes one minute to set up each component, that's almost a two-hour setup time. The new SL Feeder takes about ten seconds to load, for approximately 35 minutes of setup time. That means a 60-65% reduction in overall setup time, and that's huge."



This tremendous time savings, Wyglendowski says, will prove to be especially attractive to European and North American EMS and OEMs who have multiple changeovers in a day. "Every second that their line is not producing products is costing them money," he adds. "In addition, this doesn't even take into account the potential cost savings in labor that companies will benefit from by being able to reduce unnecessary staff that had been needed to perform on/offline setups, or the additional savings that can be realized by eliminating material and labor costs associated with splicing."



Hitachi's SL Feeder uses a new cover tape process that mitigates the release of dust and debris inside the placement system, reducing maintenance requirements. The SL Feeder is also backwards compatible with the entire line of HITACHI modular mounters back to the original GXH-1. Hitachi's new SL Feeder will be exhibited at IPC APEX 2013 in booth # 2440 and available in Q1 2013.



About Hitachi High Technologies America - Production Systems Division

Hitachi High Technologies America, Inc. ("HTA") is a privately-owned global affiliate company that operates within the Hitachi Group Companies. HTA sells and services semiconductor manufacturing equipment, analytical instrumentation, scientific instruments, bio-related products as well as industrial equipment, electronic devices, electronic and industrial materials, consumer electronic products, wireless mobile telephones, and hard disk manufacturing systems. The HTA Production Systems Division (PSD) offers optimal integrated manufacturing solutions to large and small customers by supplying a variety of cutting-edge surface mount technology manufacturing solutions. For more information, and company contact information, visit www.hitachi-hta.com.

More from Materials