Tape-and-Reel Component Feeder features removable rails.
Press Release Summary: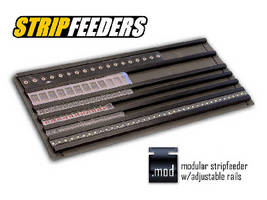 Built to JEDEC-standards, StripFeeder .mod System can be adjusted by repositioning rails on base plate at desired width to accommodate wide array of tape sizes. Rails align with precision pin locators and lock down tightly with magnets. Customers can also remove rails to accommodate larger components up to 120 mm tape width. By holding components securely in machined tracks, design prevents parts from being miss-picked, flipped in pocket, or lost.
---
Original Press Release:

Count on Tools Inc. Unveils Redesigned StripFeeder Modular System



GAINESVILLE, GA - Count On Tools Inc. (COT), a leading provider of precision components and SMT spare parts, introduces the latest version of its revolutionary StripFeeder System for loading tape-and-reel components onto compact modules for prototyping and high-mix low-volume applications.

The new StripFeeder .mod (Modular) System features removable rails that can be mounted to accommodate a wide array of tape sizes in the same feeder. Unlike the fixed width version, the StripFeeder .mod can be adjusted by removing the rails and repositioning them on the base plate at the desired width (4 mm pitched hole pattern). The rails align with precision pin locaters and lock down tightly with magnets to guarantee a stable, repeatable application.

The innovative design holds the components securely in the machined tracks to prevent parts from being miss-picked, flipped in the pocket or lost. Customers also can remove rails to accommodate larger components up to 120 mm tape width. The StripFeeder .mod system is built to JEDEC-standards and size specifications to allow the unit to be used in most types of SMT equipment or JEDEC-style tray feeder units.

The new StripFeeder systems are a cost-effective way to load many components, including odd-form and custom components, without having to purchase expensive feeders. The quick-to-assemble, easy-to-install modules are designed for rapid loading of tape-and-reel components on existing SMT pick-and-place equipment. Additionally, the trays enable fast changeover between product runs without unloading from the machine.

The StripFeeder trays are compatible with both paper and emboss tape simultaneously, and are ideal for low-volume high-mix applications and prototyping. For more information about Count On Tools' new Modular StripFeeder, visit www.cotinc.com.

About Count On Tools Inc.

Count On Tools Inc., a precision component manufacturer specializing in all aspects of the machining industry, has been setting new performance standards in the SMT pick-and-place nozzle market since 1991. As the ORIGINAL source for high-quality, low-cost vacuum placement nozzles and associated consumables, they have pioneered with world-class development and process engineers that combine to ensure that innovation and competitiveness is applied to all of its extensive product range. The company also stands behind its products 100% with a full warranty. Count On Tools' products are in use at many of the world's leading electronics manufacturing companies. Proven engineering expertise, coupled with the latest in design and manufacturing technology, has allowed the company to simplify the complexities of the industry and deliver a solution to its customers.

The company also maintains and supports a strong position in the hand tool industry, offering the highest quality hand tools in the world with PB Swiss Tools. These tools compliment any and all high-tech environments requiring optimum performance from both their equipment and technicians.

More from Mechanical Components and Assemblies