Tantalum Polymer Chip Capacitors come in 100 and 120 V variants.
Press Release Summary: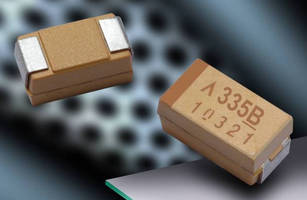 Halogen-free TCJ 100 and 125 V SMD capacitors, by maintaining 20% recommended voltage derating, extend usable voltage range and can be used for diverse high-voltage applications. Benign failure mode eliminates ignition failures and mitigates any tendency to overload or burn. Capacitors maintain reliability, exceeding 1% per 1,000 hr at 85°C and full-rated voltage, and operate from -55 to +105°C. Case sizes include 2924 for 100 V and 2917 for 125 V.
---
Original Press Release:

AVX'S New 125V Tantalum Polymer SMD Capacitors Surpass Previous 100V Milestone



AVX'S NEW 125V TANTALUM POLYMER SMD CAPACITORS SURPASS PREVIOUS 100V MILESTONE



Award-winning TCJ Series high-voltage chip capacitors maintain 20% recommended voltage derating, significantly extending the useable voltage range



GREENVILLE, S.C. – AVX Corporation, a leading manufacturer of passive components and interconnect solutions, has surpassed previous milestones with the introduction of the new TCJ 100V and 125V tantalum polymer capacitors.  As the highest rated voltage tantalum capacitors currently on the market, the new surface-mount chip capacitors provide excellent capacitance and ultra-low ESR in a compact case size.  By maintaining 20% recommended voltage derating, TCJ series capacitors significantly extend the useable voltage range and can be used for a wide array of high-voltage applications, including telecommunications equipment, base stations, switching hubs, router and line filters, DC/DC converters in LED TVs and notebook computer power supplies, and a host industrial applications. 



"The new, high-voltage TCJ Series tantalum polymer capacitors allow design engineers to reduce the number of components on the board, providing much greater layout flexibility than comparable aluminum electrolytic capacitors and enabling the devices they're designed into, such as LCD monitors and LED TVs, to become even sleeker and more compact," said Allen Mayar, product marketing manager at AVX.



TCJ series high voltage tantalum polymer SMD capacitors exhibit a benign failure mode, which eliminates the ignition failures that can occur in standard MnO2 tantalum technology, increases robustness, and mitigates any tendency to overload or burn.  Subjected to strict ageing and screening processes to ensure that all parts demonstrate the highest reliability, AVX's TCJ series capacitors maintain high reliability exceeding 1% per 1,000 hours at 85ºC and full-rated voltage.



Rated for use from -55ºC to +105ºC, AVX's 100V and 125V TCJ Series SMD capacitors feature small case sizes (2924 for the 100V and 2917 for the 125V), low profiles, and are halogen-free in accordance with the criteria for environmentally responsible product design that were recently adopted by several other major electronics manufacturers.  Compatible with high-speed pick and place manufacturing processes, the new high voltage capacitors are available on 7" and 13" pure tin reels.



For more information, please visit www.avx.com, call 864-967-2150, or write to One AVX Boulevard, Fountain Inn, S.C. 29644.



About AVX

AVX Corporation is a leading international supplier of electronic passive components and interconnect solutions with 26 manufacturing and customer support facilities in 15 countries around the world. AVX offers a broad range of devices including capacitors, resistors, filters, timing and circuit protection devices and connectors. The company is publicly traded on the New York Stock Exchange (NYSE:AVX).

More from Paints & Coatings