Tantalum Capacitors handle harsh environments up to 200°C.
Press Release Summary: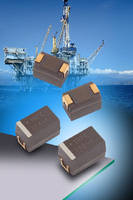 Suited for oil and gas, aerospace, and automotive applications, THJ 200C SMD Series delivers 1,000 hours of continuous operation at 200°C with derating. Solid tantalum capacitors come in 2 E-case sizes, E 220 µF rated at 10 V for 3 V rail application at 200°C and E 100 µF rated at 16 V for 5 V rail application at 200°C. Units feature leakage current of less than 1 mA after 1,000 hr of operation at 200°C. All withstand 3x reflow soldering process at 260°C and are RoHS-compatible.
---
Original Press Release:

AVX Develops Industry's First SMD Solid Tantalum Capacitor for Harsh Environments up to 200°C



Rugged SMD solid tantalum capacitors ideal for harsh environments including oil and gas, aerospace and automotive applications...

MYRTLE BEACH S.C. (May 26, 2009) - AVX Corporation, a leading manufacturer of advanced
passive components and interconnect solutions, has developed a SMD solid tantalum capacitor that delivers 1000 hours of continuous operation at 200°C with derating. Designated the THJ 200C SMD Series, the tantalum capacitor is based on a unique design, distinct manufacturing processes and special ageing techniques, which guarantees high-temperature performance for a variety of harsh environment applications, such as oil and gas drilling, aerospace, defense and automotive.

The capacitors are initially available in two E-case sizes: E 220µF rated at 10V for 3V rail application at 200°C and E 100µF rated at 16V for 5V rail application at 200°C. The THJ 200C SMD tantalum capacitors feature a small surface mount package that lends itself to fast pick and place assembly techniques and a negative temperature coefficient that ensures no localized heating occurs in the capacitor, thus avoiding thermal runaway and ultimately destruction or operational degradation of the device.

"As the industry's first SMD solid tantalum capacitors for high temperature applications, these 200°C capacitors currently have no direct surface-mount competition and their small size provides significant advantage such as enabling oil drilling heads to be either miniaturized or equipped with advanced features," said Tomas Zednicek, Technical Marketing Manager at AVX.

"Furthermore, by eliminating the need for through-hole technology in the end product with the benefits of full automation manufacturers are able to reduce manufacturing costs and increase reliability."

Gold plated termination for hybrid assembly is provided as conventional tin/tin-lead finished terminations have melting points that are too low for reliable operation at 200°C. Long operating life is also a key attribute, as the capacitor features a leakage current of less than 1mA after after 1000 hours of operation at 200°C. All THJ 200°C capacitors are designed to withstand a 3x reflow soldering process at 260°C and are RoHS compatible.

In oil and gas applications, the THJ 200°C SMD tantalum capacitors are ideal for use in DC/DC converters found in drilling heads that are subjected to rising ambient temperature with depth. Enabling companies to enhance the use of electronics at higher temperatures leads to higher profits, as deeper situated commodities are more easily and cheaply accessed. In these applications the 16V capacitor is suitable for ±5V analog circuits, while the 10V capacitor is used for 2.5V and 3.3V digital circuits.
Typical aerospace and defense applications include high temperature engine and turbo fan control as well as control and sensing electronics placed near the outer shells of rockets and space shuttles. A key requirement here is reliability under harsh conditions.

Automotive applications require reliability and long life at elevated temperature levels. High capacitance devices rated at 16V are ideal for use in a variety of mechanisms such as in the latest generation of smaller gearboxes and embedded alternators.

Pricing for the THJ Series is set at competitive market levels with a lead time of nine weeks.

For more information about AVX's THJ Series, contact AVX Sales and Marketing at 801 17th Avenue South, Myrtle Beach, S.C. 29578; by calling 843-448-9411; by fax at 843-444-2864; or on the Web at www.avx.com.

About AVX

AVX Corporation is a leading international supplier of electronic passive components and interconnect solutions with 24 manufacturing and customer support facilities in 15 countries around the world. AVX offers a broad range of devices including capacitors, resistors, filters, timing and circuit protection devices and connectors. The company is publicly traded on the New York Stock Exchange (NYSE:AVX).

More from Construction Equipment and Supplies