Tandem Printer Applicator combats counterfeiting.
Press Release Summary: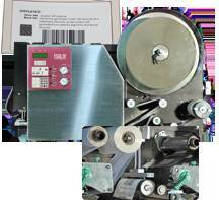 Utilizing 2 in-line thermal print engines, Tandem Label Printer Applicator can print and apply customized anti-counterfeiting labels. Starting with unprinted or pre-printed label stock, first station prints standard product and lot information such as GTIN, serial number, lot code, and expiration date, both in human readable and liner or 2D bar code format. Second print station, utilizing specialized ribbons, enables overt, covert, and forensic authentication marks to be added.
---
Original Press Release:

2 Station Print and Apply Combats Counterfeiting



FOX IV Technologies, Inc.'s Tandem Printer Applicator



EXPORT, PA — Tamper Evidence, Serialization, Authentication – the three hallmarks of anti-counterfeiting technology.  The FOX IV Technologies' Tandem Label Printer Applicator enables the full use of these hallmarks in one automated labeling system.  The FOX IV Tandem utilizes two in-line thermal print engines to print and apply customized anti-counterfeiting labels.  Starting with unprinted or pre-printed label stock, the Tandem's first print station is able to print standard product and lot information such as the GTIN, Serial Number, Lot Code, and Expiration Date both in human readable and liner or 2D bar code format.  The second print station, utilizing specialized ribbons, enables authentication measures to be employed.  Overt, covert and forensic authentication marks can be printed in addition to the information printed at the first station.  Overt anti-counterfeiting printing may include a holographic printed image, a specialized color, or a scratch –off patch printed over top of lot specific information.  For more covert anti-counterfeiting measures, the second print station may apply text or barcode information printed in UV ink, which will only be visible under black lights.  Forensic tracers or specialized covert markers can also be applied to the label at the second print station.   To insure the label is not tampered with once it has been applied, tamper evident label stock can be utilized.



The FOX IV Tandem automates the entire anti-counterfeiting labeling process by printing and automatically applying the unique label to the product, case or pallet.  The dual in-line print stations are designed to accurately print the two-process label without label web tracking issues and the large 16" OD label roll capacity ensures extended production.  Various label application methods are available depending on the item being labeled.  A high level of label placement accuracy can be achieved.  The Tandem is easily integrated into existing production lines as an integral part of the product identification, verification and tracing process.



FOX IV Technologies, Inc., offers a full line of label printers and applicators, ribbons, labels, enclosures, printing supplies and services, material handling equipment and software solutions in order to provide fully integrated turnkey automated identification systems.  The company integrates more than 25 tabletop printers and OEM print modules into rugged label printer applicators capable of operating 24/7 in a wide variety manufacturing environments.  Known internationally for innovative designs, quality construction and customized solutions, FOX IV is located approximately 20 miles east of Pittsburgh, PA. 



For more information, press only:

Catherine Hornsby, Marketing Communications Manager

chornsby@foxiv.com 

Toll Free: 1.877.436-2434 | Fax: 724-387-3516



For more information the FOX IV Tandem Printer-Applicator:

http://foxiv.com/products/print-apply/intermec/tandem-dual-printhead-system-laminating-brand-protection.php | www.foxiv.com





More from Controls & Controllers