Tamper-Evident High Security Bolt Seals have no-spin hex design.
Press Release Summary: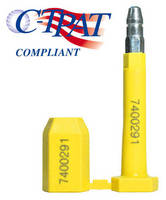 Offered in multiple colors, Premium Bolt Seal (MS-B8 series) meets ISO 17712:2013 standard for High Security, as required by C-TPAT, and are suitable for shipments that cross international borders. Metal-on-metal interlocking connection between bolt and locking mechanism prevents spinning of bolt seal. Metal bolt and metal locking cylinder are encased in plastic, which will discolor/melt if attacked with heat source and crack if attempts are made to spin bolt seal.
---
Original Press Release:

High Security Bolt Seals with No-Spin Hex Design from NovaVision Inc.



BOWLING GREEN, Ohio – NovaVision Inc. today announces a new line of High Security Bolt Seals with no-spin hex design to combat tampering.



Our premium bolt seals meet the ISO 17712:2013 standard for High Security, as required by C-TPAT and are suitable for shipments that cross international borders or for high value shipments. Our Premium Bolt Seal (MS-B8 series) has a unique anti-tampering feature to prevent tampering -- an interlocking metal connection between the bolt and locking mechanism.  The metal bolt has a hexagonal shape which interlocks with the metal locking mechanism, which also has the hexagonal shape.  This metal-on-metal interlocking connection PREVENTS any spinning of the bolt seal.



Documentation & Accountability

Each seal has a unique serial number. Record the serial number for added security and accountability. Our bolt seals are also offered in multiple colors, which allows for color-coding.



Ease of Removal

All of our bolt seals have a longer operational length than competitive products, which provides added clearance (and convenience) for bolt cutter access to cut the bolt for removal.



Bolt security seals are very durable and intended for high security applications, such as:



• Shipping containers

• Trucks and trailers

• Railcars

• Other heavy-duty sealing applications



Both the bolt and lock have matching serial numbers, which are laser etched into the plastic covering.



The bolt is inserted into the locking mechanism, where the metal bolt snaps into place within the metal locking cylinder. The metal bolt and metal locking cylinder are encased in plastic, which is designed to show signs of tampering. If attacked with a heat source, the plastic will discolor and/or melt.  If attempts are made to spin the bolt seal, the plastic coating on the bolt will crack.



Bolt Seal Before Use (MS-B8Y Shown) 

Bolt Seal After Use (MS-B8Y Shown)



Bolt Seal Tip Featuring

No-Spin Hex Design (MS-B8Y) 

Bolt Seal Lock Featuring

No-Spin Hex Design (MS-B8Y)



Bolt Seal Un-tampered (MS-B8Y) 

Bolt Seal Tampered by Spinning (MS-B8Y)



Pricing Information

Pricing and ordering information is available at:

http://www.novavisioninc.com/pages/prd_bolt_seals.html



About NovaVision Inc.

Founded in 1994, NovaVision Inc. is an industry leader in the manufacture and sale of anti-counterfeiting and anti-tampering products, including hologram labels, tamper evident stickers, security tape, cable seals, bolt seals, and plastic hasp seals.  NovaVision has a global reach, and is a provider of products to domestic (federal, state, and local) and international governments, large international companies, retailers, brand owners, hospitals, banks, as well as pharmaceutical, logistics, and collectibles companies.



Press Contacts

Michael Messmer

+1-419-354-1427

media@novavisioninc.com



All Other Contact

524 East Woodland Circle

Bowling Green, OH 43402

+1-419-354-1427

http://www.novavisioninc.com

Related