Tailstocks & Heavy Duty Work & Tombstone Supports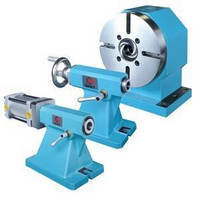 Tailstocks from our MTS and ATS Series are typically used when machining long slender piece parts on a machining center, milling or grinding machine. The MTS models are actuated via an operator rotating the hand wheel until the required pressure is reached, while the ATS series has an air or hydraulic cylinder attached, providing a more automated operation.



The much heavier duty BTS Series, a "Face Plate" style of tailstock support are fitted with massive bearings and a hydraulic distortion-free brake assembly. This to ensure maximum rigidity when supporting heavy loads and to accommodate high-cutting forces on the piece parts.



The BTS Series are often incorporated in the design of multi-sided "tombstone" fixturing for machining centers.



More from Software