Tablet Size Grader handles softgels and coated tablets.
Press Release Summary: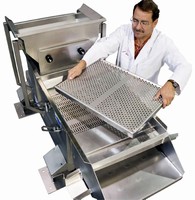 Targeting pharmaceutical and nutraceutical manufacturers, Impulse/P(TM) Size Grader achieves throughput of up to 1,000,000 doses/hr depending on size of tablets or capsules. It can be used as stand-alone size grader which can be used after drying, or integrated with Optyx®/SG optical inspection system for softgels. Available with 2 or 3 grading decks to achieve 2- or 3-way size separation, unit removes twins, clusters, empties, under/over diameter foreign capsules, and coating flakes.
---
Original Press Release:

Symetix Introduces Impulse/P(TM) Size Grader for Solid-Dose Pharmaceuticals and Nutraceuticals



February 22, 2007 - Symetix, the pharmaceutical business unit of Key Technology, introduces Impulse/P(TM), a high volume size grader designed specifically for solid-dose pharmaceutical and nutraceutical manufacturers. Configurable to grade softgels or coated tablets, Impulse/P maximizes product quality and speeds product changeover while reducing labor costs.

Unlike traditional diverging roller sizers that require many moving parts and often take two or more hours to clean and clear for a new product, Impulse/P can be changed over and sanitized in only five minutes. Simply wipe down the stainless steel bed, snap in the screens that handle the new product size and begin production.

Impulse/P achieves a throughput of up to 1,000,000 doses per hour, depending on the size of the tablets or capsules.

Featuring a large infeed hopper and a precision, electronically-controlled infeed gate to allow convenient interface to other automation, Impulse/P furthers Symetix' vision for integrated/automated softgel processing. As pharmaceutical and nutraceutical manufacturers race to automate their production lines, continuous processes are replacing batch processes. If needed, manufacturers can batch-feed the bulk-to-bulk Impulse/P today and later integrate the size grader with other continuous processes.

With removable decks for repeatable grading for all common softgel and tablet sizes, Impulse/P can be used as a stand-alone size grader used after drying, or integrated with Optyx®/SG, Symetix' optical inspection system for softgels.

Impulse/P is available with two or three grading decks to achieve two- or three-way size separation. The two-deck grader removes twins, clusters, empties, and under-diameter foreign capsules when grading softgels and removes twins and coating flakes when grading coated tablets. Impulse/P is ideal for feeding Optyx/SG, which removes a wide range of defective softgels and foreign capsules based on color, size, and defects such as air bubbles, stained capsules, and misshapen product. Ideal as a stand-alone unit, the three-deck grader removes twins, clusters, empties, and under-diameter foreign capsules as well as over-diameter foreign capsules when grading softgels.

Based on Key's field-proven Impulse electromagnetic shakers, which Symetix has redesigned specifically for pharmaceutical and nutraceutical manufacturers, Impulse/P features no sliding or rotating parts to wear. The oil-free electromagnetic drive is quiet and has no moving parts. In addition to gentle product handling, Impulse/P offers exceptional service life and very low maintenance.

About Symetix
Symetix, launched in September 2005, is the pharmaceutical business unit of Key Technology. With over 50 years of experience in the food, tobacco, and pharmaceutical industries and over 70 FDA-validated inspection systems installed worldwide for softgels, capsules, and tablets, Key is a leading manufacturer of best-in-class process automation systems. Symetix offers worldwide sales representation and maintains demonstration and testing facilities at Key's headquarters and manufacturing divisions in Walla Walla, Washington, USA; in Beusichem, the Netherlands; and in Sydney, Australia. Key's common stock trades on the Global Market tier of The NASDAQ Stock MarketSM under the symbol: KTEC.

Reader Inquiries:
Brenda Murphy
Symetix
150 Avery Street
Walla Walla, WA 99362 USA
Tel: 800.941.3701 or 509.522.3524
Fax: 509.522.3361
Email: bmurphy@symetix.com
URL: www.symetix.com

More from Agricultural & Farming Products