Table Blasters offer capacities from 1,500-6,000 lb.
Press Release Summary: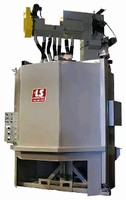 Built from steel and alloy steel with welded construction, Table Blasters are available with 3, 4, 5, 6, 7, 8, 10, and 12 ft diameter tables and work heights from 19-60 in. Replaceable, wear-resistant liner materials are strategically positioned inside cabinet to absorb brunt of impact from abrasive. Suited for castings, forgings, foundry, and parts too large to tumble, machines blast off rust and scale, and prepare surfaces for further finishing.
---
Original Press Release:

LS Industries Introduces a Full Line of Table Blasters



LS Industries adds the table blaster to its lineup of products. The addition gives LS Industries clients another affordable option for shot blast cleaning. Standard sizes will be available and custom models will be designed to meet specific cleaning needs

LS Industries line of table blaster will include 3', 4', 5', 6', 7', 8', 10' and 12' diameter tables. Work heights can vary from 19" - 60" will be available. Work weights can range from 1,500 lbs to 6,000 lbs. Custom table blasters can be designed for your shot blasting needs. Custom models can have working heights of

Typical cleaning operations for the table blaster include: castings, forgings, foundry, parts to large to tumble and parts that might be damaged in a tumble blast machine. The table blasters are versatile and can blast off rust, scale and prepare surfaces for further finishing.

All LS Industries Table Blasters are built from the ground up with dependability in mind. LS Blasters are built from rugged steel and alloy steel with welded construction. Replaceable wear resistant liner materials are strategically positioned inside the cabinet, to absorb the brunt of the impact from the abrasive. These machines are built to provide years of trouble free service with minimal maintenance.

At the heart of the LS Table Blaster is the LS TurboShot impeller. This impeller consists of eight blades mounted on a rotating drive shaft. As shot enters the LS TurboShot housing, it is fed directly into the path of the impeller blades to create a blast stream that maximizes the impact/coverage ratio. The LS TurboShot impeller features replaceable, wear resistant blades to simplify maintenance and reduce downtime.

LS Industries Table Blasters are designed for easy operation!

Our standard blasters feature hinge mounted doors for easy access. Our tables are specially constructed from rugged manganese/steel alloys. The door opening exposes 40% of the table for easy parts loading and removal. Just close the door and set the timer. Shot usage is monitored by indicator lights and an analog readout of amperes being drawn by the LS TurboShot impeller wheel motors.

LS Industries Dust Collectors are built specifically for each application. All Table Blasters require dust collection. Our custom built collectors are matched to each machine to provide the proper amount of suction to remove debris and keep your shot clean.

Founded in 1977 - LS Industries - Designer and manufacturer of metal cleaning equipment including abrasive blast cleaning systems, degreasing and finishing equipment, washing machines and water blasting equipment. Custom structural airless shot blast cabinets using conveyor and monorail systems, available in various sizes and shapes. Vibratory shakers and tumblers, tumble blasters and rubber belt blasters. Other products include pressure, flow-through, industrial, jet spray and rotary washers, spray systems and aqueous infrared, batch ovens, gas and electric ovens. Rim clean and refurbishing, pressure cylinder cleaning, brake deliners and powder coating equipment.

For further information visit www.lsindustries.com or contact us directly by calling 316-265-7997 or toll free at 800-835-0218. LS Industries is dedicated to developing new technologies and new cleaning solutions. It is LS Industries' commitment and experience that will carry us forward as an innovator and leading manufacturer of metal cleaning, profiling and surface preparation equipment.

Contact:

LS Industries
710 E 17th Street
Wichita, KS 67214
1 800-835-0218 x224
316-265-7997 x224

www.lsindustries.com

Britton Harper
Marketing Director
bharper@lsindustries.com

More from Electrical Equipment & Systems