TAB Wrapper Tornado Named "Product of the Year"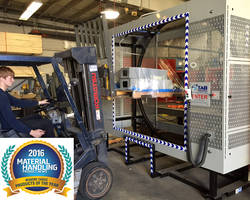 Orbital Wrapper Earns Material Handling Product News Readers' Choice Award
Reading, PA: The TAB Wrapper Tornado line of orbital wrapping machines from TAB Industries, LLC, Reading, Pa. (www.tabwrapper.com), has been named "2016 Product of the Year" by readers of Material Handling Product News, a trade magazine covering trends, advances and innovations in material handling, packaging and logistics. The TAB Wrapper represents a shining example of the best of the many advances in systems, equipment and products for warehousing, distribution and manufacturing introduced during 2016, according to the magazine's editorial team. The TAB Wrapper Tornado was chosen by readers who voted from a slate of products that had been nominated as Editor's Choice.
Named in the December, 2016 issue of the magazine, the TAB Wrapper Tornado was cited for its ability to secure loads to their pallets by wrapping plastic film 360 degrees around and under both the load and the pallet while raised on a forklift, creating a unitized load that improves protection, safety and stability in transport and storage. Ideal for wrapping tubing and pipe, fabricated metal parts, bulk bags, stone pavers, 55-gallon drums and virtually any palletized load, the orbital wrapper may be used with a conveyor to continuously wrap long products of unlimited lengths and may also be operated automatically by a single lift truck driver via wireless remote control without leaving the seat.. The TAB Wrapper Tornado is manufactured in the company's Reading, Pennsylvania headquarters and ships with a warranty fully assembled and ready to plug in and operate.
For a free brochure or more information, contact
TAB Industries, LLC,
2525 N. 12th Street,
Reading, PA 19605;
610-921-0012;
info@tabwrapper.com or see www.tabwrapper.com.
Contact:
Andy Brizek
610-921-0012,
Related