TAB Wrapper Tornado Earns "Product of The Year" Award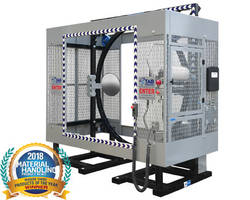 Orbital Wrapper Tops MHPN Readers' Choice Award Voting for Packaging
Reading, PA: The votes are in and the material handling pros have spoken – again. The TAB Wrapper Tornado line of orbital wrapping machines from TAB Industries, LLC, Reading, Pa. (www.tabwrapper.com), has been named "2018 Product of the Year" by readers of Material Handling Product News, a trade magazine covering trends, advances and innovations in material handling, packaging and logistics. A prior recipient of the "2016 Product of the Year" award, the TAB Wrapper Tornado led the voting in the Packaging/Pallets category, which included several stretch-wrapping systems among the nominees. This award honors TAB Industries for its achievements and advances in the development of material handling systems and equipment for manufacturers, distribution centers and warehouses, according to the magazine's editorial team.
To be profiled in the December, 2018 issue of the magazine, the patent-pending TAB Wrapper Tornado was nominated for its ability to secure loads to their pallets with a protective layer of film, unlike a standard shrink wrapper or stretch wrap machine that wraps product-to-product. This provides greater stability to eliminate damage in transit, improve packing and shipping efficiency, and reduce labor and material costs. Proven in use for wrapping tube and pipe, metal parts, bulk bags, 55-gallon drums, and other loose, long, and oddly shaped products, the TAB Wrapper Tornado line encompasses three, standard models, the fully automated Perfect Storm, and the TAB Wrapper Skinny, plus custom designs to suit virtually any size product or pallet. The award-winning wrapping machines are manufactured in the company's Reading, Pennsylvania headquarters and ship with a warranty fully assembled and ready to plug in and operate.
For a free brochure or more information, contact TAB Industries, LLC, 2525 N. 12th Street, Reading, PA 19605; 610-921-0012; info@tabwrapper.com or see www.tabwrapper.com.
Related