TA 7000R Reduction Gas Analyzers Provide Reliable Measurement Of Trace H2 And CO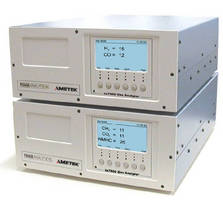 Units Provide Rapid and Reproducible Results at Extremely Low Concentrations

NEWARK, Delaware - The ta7000R Series gas chromatographs from AMETEK Process Instruments are designed to monitor the purity of gas distributed to clean rooms and production tools in the latest semiconductor fabs. The monitors incorporate many advanced features for the reliable detection of H2 and CO in the parts per trillion (ppt) range.

The ta7000R platform includes a dedicated sample processing system, a single high sensitivity detector and on-board data analysis electronics. It is equipped with a Reduction Gas Detector for H2 and CO detection. The unit has a detection limit below 500 parts per trillion and is available for use on nitrogen, oxygen, helium and argon sample streams.

The ta7000R Series is part of a family of exceptional trace analyzers from AMETEK, a leader in process instruments. For more information, contact AMETEK Process Instruments, 455 Corporate Blvd., Newark, Delaware, 19702 USA. Phone: 800-222-6789. Fax: 302-456-4444. Web site: www.ametekpi.com

AMETEK, Inc. is a leading global manufacturer of electronic instruments and electromechanical devices with 2009 sales of $2.1 billion.

More from HVAC