T8 Dimming Ballast works on low-voltage or line power.
Press Release Summary: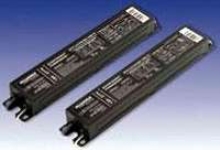 Installed on any line voltage from 120-277 V, QUICKTRONIC® POWERSENSE(TM) works on 0-10 Vdc or power-line dimming controls, operating linear fluorescent T8 lamps over 100-5% dimming range. Unit incorporates micro-controller technology and supports OCTRON® lamps from 17-32 W. Streamlined using 2-wire power-line dimmer to eliminate additional control wires, unit integrates circuit to protect ballast against line voltage applied to low-voltage control inputs.
---
Original Press Release:

Sylvania Presents The Quicktronic Powersense T8 Dimming Ballast


New York, N.Y. (April 12-14, 2005) - The SYLVANIA QUICKTRONIC® POWERSENSE(TM) T8 Dimming ballast is the only ballast in the market that works on low-voltage (0-10VDC) or power-line dimming controls. By combining control technologies in a single product, POWERSENSE can be installed on any line voltage and with any standard fluorescent dimming control, making the ballast ideal for individual office lighting or automated building applications, both in new construction and retrofit projects.

The QUICKTRONIC POWERSENSE ballasts operate linear fluorescent T8 lamps over a 100 to 5 percent dimming range, provide true versatility in controls selection and feature micro-controller technology to offer the industry's most adaptable dimming ballast. Compatibility with low-voltage controls, power-line dimmers, any line voltage from 120V to 277V and OCTRON® lamps from 17-watt to 32-watt, provides the flexibility to simplify the specification, purchasing and installation process.

The QUICKTRONIC POWERSENSE T8 dimming ballast is ideal for use in school auditoriums and classrooms, conference rooms and even private offices. For the individual office or conference room, installation can be streamlined by using a 2-wire power-line dimmer; eliminating the need for additional control wires.

For more advanced systems, such as daylight harvesting or building automation applications, standard low-voltage devices are used to control the lighting system. Depending on the specific application, energy savings of up to 60 percent, as compared to fixed output T8 electronic systems, can be realized.

All QUICKTRONIC POWERSENSE models include a line voltage protection circuit, which protects the ballast in the event that line voltage is inadvertently applied to the low-voltage control inputs.

Setting the standard for quality, QUICKTRONIC POWERSENSE is covered by the SYLVANIA QUICK 60+® warranty, the first and most comprehensive lamp and ballast system warranty in the industry.

About OSRAM SYLVANIA:

Headquartered in Danvers, Mass., OSRAM SYLVANIA is the North American lighting operation of OSRAM GmbH. Together we are the second-largest lighting and materials enterprise in the world, serving customers in more than 140 countries. We manufacture and market a wide range of lighting products, including automotive, electronic and magnetic ballasts, and precision materials and components for industrial and commercial users, original equipment manufacturers and consumers, sold primarily under the SYLVANIA brand name, but also under the OSRAM brand. OSRAM SYLVANIA also offers lighting systems installation and maintenance services. For further information, please refer to our Web site at www.sylvania.com.

More from Explosives, Armaments, and Weaponry