System Module suits embedded communication applications.
Press Release Summary: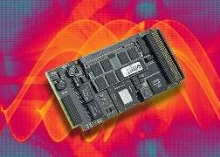 Model EM03A combines PowerPC core with 833 MHz PowerQUICC III MPC8560 communications processor from Freescale Semiconductor. It interfaces to 32-bit/33 MHz PCI bus or 64-bit/66 MHz PCI bus. Integrated on PowerQUICC III are interfaces to Gigabit Ethernet, Fast Ethernet, and 2 serial communications lines. Onboard SO-DIMM slot enables module to be configured with up to 2 Gb of 133 MHz DDR RAM. Model EM03A can be plugged into 6U carriers for CompactPCI or VMEbus card cages.
---
Original Press Release:

MEN Micro's New System-on-a-Module is an Embedded Communications Computer


Dallas, Feb. 22, 2005 - A new Embedded System Module (ESM) from MEN Micro (www.menmicro.com) combines the new PowerPC core, the PowerQUICC III MPC8560 from Freescale Semiconductor, with an extended operational range for embedded communications applications in harsh environmental conditions.

The new EM03A is based on an 833 MHz PowerQUICC III communications processor and is well suited for communications systems such as routers, switches, hubs, gateways, base stations, multi-service access platforms or embedded Linux servers. Because of its extended operating range, the EM03 could also be central to industrial communication systems such as robotic control applications running real-time operating systems.

"As an Embedded System Module, the EM03A can be plugged into many types of standard or application-specific carrier cards, including 6U carriers for CompactPCI or VMEbus card cages," said Ernest Godsey, president of MEN Micro. "In a 6U CompactPCI system, for example, the EM03 might be combined with PMC modules on the same 6U carrier. Or, in a PCI-104 based system PCI-104 I/O modules might be stacked onto the EM03 for additional functionality."

At 7.4 Watts the PowerQUICC III processor on the EM03A is relatively low power. And it can operate over the industrial temperature range of -40 to 85 degrees C. The EM03A interfaces to the 32-bit/33 MHz PCI bus or, alternatively, the 64-bit/66 MHz PCI bus. Integrated on the PowerQUICC III are interfaces to Gigabit Ethernet, Fast Ethernet and two serial communications lines. As is common in the telecommunications industry, these lines are not led to front-panel connectors, but rather are available on the board itself via a J3 ESM connector. An onboard SO-DIMM slot enables the EM03 to be configured with up to two gigabytes of 133 MHz double data rate (DDR) RAM main memory. And as much as one gigabyte of NAND flash for program memory is also available.

An FPGA on the EM03 can be configured with additional functionality, such as telecom interfaces like ATM, E3/T3 or HDLC. Typical industrial interfaces like CAN bus, USB, IDE, graphics and others can also be loaded into the FPGA.

MEN Micro is quoting availability of the EM03A for 10 years.

Pricing and Availability
The EM03A is available now from MEN Micro, Inc. Pricing starts at $1,433 for single units. In the United States, MEN Micro products are sold through a national network of technical manufacturer's representatives. For sales information, call 512-267-8883, send faxes to 512-267-8803 or email sales@menmicro.com. For more information on the EM03, this press release, a product photo and collateral materials are available at men.de/products/press.

About MEN Micro
MEN designs, manufactures and sells board-level industrial real-time and embedded computer products. The flexibility inherent in MEN's standard products allows system platforms to be custom configured for a wide range of applications. In addition, the company develops custom boards and systems for OEMs, end users and system integrators. MEN's products include Embedded System Modules (ESM), VMEbus and CompactPCI compute platforms with Intel Pentium, Motorola 68000 or PowerPC processors, and a wide selection of M‑Module or PC·MIP mezzanine I/O modules. The MEN product lines support the most widely used operating systems, including Windows, VxWorks, OS-9, QNX and Linux.

MEN was founded in 1982 in Nürnberg, Germany, as MEN Mikro Elektronik GmbH. The company has subsidiaries in France, MEN Mikro Elektronik SA; the United Kingdom, MEN Micro, Ltd., and the United States, MEN Micro, Inc. A network of technical distributors services and supports the rest of the world.

What's an ESM?
Unlike other mezzanine cards or processor modules, which may have limited functionality, an ESM is a complete computer system on a mezzanine card. The ESM specification, which was developed by MEN Micro, defines the mechanical, electrical and environmental characteristics of both ESMs and carrier cards, although an ESM can function as a standalone computer without a carrier card. Each ESM consists of a CPU chipset, main memory, mass storage connection, essential I/O ports and an onboard BIOS or monitor firmware. MEN also supplies board support packages (software support) for various operating systems including Windows, Linux and a variety of real-time OSs.

ESMs are electrically compatible with all versions of the PCI bus. All ESMs share the same mechanical specifications, including the 71 x 149 mm footprint. ESM carrier cards can be designed with a wide variety of functionality, from a simple passive board for the power supply connection to a complex carrier board with other types of mezzanine cards such as PMC, PC·MIP or M-Modules. For this reason the types of systems where ESMs can be cost effectively used is practically limitless. For example, ESMs can be used on 3U or 6U carrier cards containing additional I/O in CompactPCI or VME systems. ESMs can even be stacked with PC/104-Plus I/O cards and combined with practically any conceivable type of carrier card to create complete embedded systems.

More from Software