Syringe Pumps are suited for lab or IV applications.
Press Release Summary: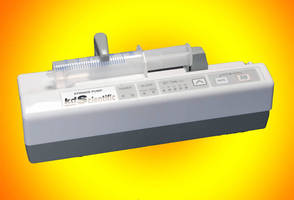 Offering flow rates from 60-1,500 mLph depending on syringe size and pump settings, EZFlow 2020 has automated calculation of delivery based on 4, 8, 12, 16, and 20 min, with infusion accuracy of ±20 sec. It can accommodate wide range of plastic syringes including 20/30, 50/60, and 100 mL. Features include ergonomic, horizontal design, waterproof touch control panel, and 4 visual and audible alarms. Both 115 Vac EZFlow 2020 and 220 Vac EZFlow 2021 come with rechargeable battery.
---
Original Press Release:

New Syringe Pumps Ideal for Lab or IV Applications



KDS EZFlow 2020 is a durable syringe pump useful in high rate infusions. It is designed to enhance quick efficient operation while maintaining simplicity.

The EZFlow 2020 system has an automated calculation of delivery based on 4, 8, 12, 16 and 20 Minutes, with an infusion accuracy of ±20 seconds.

A wide range of plastic syringes can be used with the unit including 20/30 ml, 50/60 ml and 100 ml. The ergonomic, easy to use, horizontal design protects the syringe barrel and allows single-handed loading.

Durable ergonomic waterproof touch control panel provides for efficient and reliable operations.

Flow rates range from 60 ml/hr to 1,500 ml/hr depending on the syringe size and pump settings.

There are 4 visual and audible alarms, occlusion detection, low battery, near end of dispense and complete.

There are two models available for different power requirements, 115 VAC (EZFlow 2020) or 220 VAC (EZFlow 2021).Both units have a rechargeable battery, which provides continuous operation of 15 syringes (50 ml) set at 12 minutes.

KD Scientific designs, manufactures and sells a range of quality fluidics equipment used by research laboratory markets worldwide.

KD Scientific syringe pumps are an economical solution to delivering precise and smooth flow in research, pilot plants and production applications. They are recognized worldwide for quality, accuracy and reliability. A broad line of syringe pumps are offered: from a simple one syringe infuse only, to a programmable multi-syringe infuse/withdrawal pump. KD Scientific operates as a separate business within Harvard Bioscience at their Holliston, Massachusetts facility.

For more information contact:
KD Scientific
84 October Hill Road
Holliston, Massachusetts 01746
Phone: 508-429-6809
Fax: 508-893-0160
E-mail: info@kdscientific.com
Web: www.kdscientific.com

More from Software