Syringe Pump suits constant pressure applications.
Press Release Summary: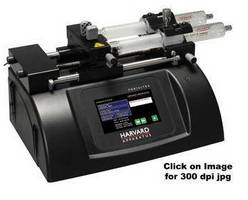 Coupling to virtually any pressure transducer/amplifier with 0-10 V output, PHD ULTRA(TM) CP Syringe Pump delivers fluids with applied force up to 1,000 lb with less than ±2% pressure accuracy. Unit infuses fluids under constant pressure by automatically adjusting flow rate. Typical applications include organ perfusion studies requiring constant physiological conditions, ocular injections and perfusions, and constant pressure microfluidic mixing.
---
Original Press Release:

NEW First of its Kind Constant Pressure Fluid Delivery Syringe Pump



Harvard Apparatus, the world leader in syringe pumps, has just released the NEW PHD ULTRA(TM) CP Syringe Pump. This pump is the first of its kind to infuse fluids under Constant Pressure by automatically adjusting the flow rate.

The PHD ULTRA(TM) CP will provide enhanced capabilities for many experiments and is ideal for a variety of Constant Pressure applications including:

o Organ perfusion studies requiring constant physiological conditions

o Ocular injections and perfusions

o Small animal whole-body perfusions

o Constant pressure microfluidic mixing

o Introduction of chemical reactants in a controlled manner

A Constant Pressure Syringe Pump Technology Advance, the PHD ULTRA(TM) CP couples to virtually any commercially available pressure transducer/amplifier with a 0-10V output to deliver fluids with an applied force of up to 1,000 lbs with <±2% pressure accuracy.
World-renowned for accuracy and reproducibility, all PHD ULTRA(TM) CP syringe pumps are infuse/withdraw models and are offered in a variety of configurations and force/pressure ratings to meet and exceed your research needs.

For more information please go to www.harvardapparatus.com or contact the Harvard Apparatus Technical Support Department at techsupport@harvardapparatus.com or call (800)272-2775 to discuss your application.

Harvard Apparatus

84 October Hill Road

Holliston, Massachusetts 01746 USA

Toll Free: 800-272-2775

Phone: 508-893-8999

Fax: 508-429-5732

E-mail: bioscience@harvardapparatus.com

Web: www.harvardapparatus.com

Harvard Apparatus is a global developer, manufacturer and distributor of innovative and specialized products to enhance bioresearch.

More from Thermal & Heating Equipment