Synthetic Lubricants help protect compressors from wear.
Press Release Summary: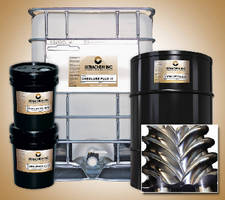 Made with thermally and oxidatively stable polyol ester blend, Chemlube® Plus Series is suited for rotary screw compressors, rotary vane compressors, and vacuum pumps. Fully synthetic lubricants minimize formation of varnish under high temperatures and resist acidic intake air. Under normal operating conditions, users can expect to obtain up to 11,000 hours of lubricant service life in rotary screw compressors. Line is available in ISO grades 32, 46, and 68.
---
Original Press Release:

Ultrachem Introduces New Series of Chemlube Plus Series Synthetic Compressor Lubricants



New Castle, DE – Ultrachem has developed a new line of high-performance synthetic lubricants – the Chemlube® Plus Series – designed to be used in a wide variety of rotary screw and rotary vane compressors. True universal lubricants, the Chemlube Plus Series is fully compatible with most OEM Rotary Screw compressor oils and can be used to top off and replace existing fluids.



The Chemlube Plus Series lubricants are made with a very thermally and oxidatively stable polyol ester (POE) blend.  These oils were designed to take advantage of superior lubricating properties inherent in polyol esters, and yet be economical, by combining them with less expensive synthetics.



These fully synthetic premium lubricants are formulated to form less varnish under high temperature applications and to be more resistant to acidic intake air than the polyalkylene glycol (PAG) coolants.  Under normal operating conditions users can expect to obtain up to 11,000 hours of lubricant service life in rotary screw compressors.  The line is available in ISO grades 32, 46 and 68.



Typical industrial applications for the Chemlube Plus Series include: rotary screw compressors, rotary vane compressors, centrifugal compressors, and vacuum pumps.  Chemlube Plus Series lubricants offer these performance benefits:




outstanding thermal and oxidative stability



extended drain intervals reduces oil disposal



wide operating temperature range



excellent anti-wear protection



compatibility with most compressor oils



improved safety - high flash point



Full specifications are available for download at www.ultracheminc.com. For more information, contact Ultrachem, Inc., 900 Centerpoint Boulevard, New Castle, DE 19720, USA. Tel: 302-325-9880; Fax: 302-325-0335; E-mail: info@ultracheminc.com; Web: www.ultracheminc.com.



Editor's note: Established in 1965, Ultrachem is one of the oldest specialty synthetic lubricant compounders and has become a leading supplier to the OEM and industrial maintenance markets. With its headquarters and manufacturing facilities in Delaware, Ultrachem offers a wide range of products including food grade lubricants, impregnating oils and gels, high pressure compression lubricants, and gas compression lubricants. Ultrachem is a member of the Independent Lubricant Manufacturers Association (ILMA).



Reader Service Inquiries: Please forward to Glenn Krasley at Ultrachem, Inc., info@ultracheminc.com

More from Fluid & Gas Flow Equipment