Synthetic Lubricant complies with FDA and USDA H1 regulations.
Press Release Summary: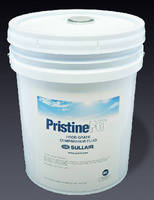 Compatible with all components of standard rotary compressor systems, PristineFG(TM) is intended for food processors and packagers, beverage bottlers, and pharmaceutical manufacturers. Product provides optimized lubrication at high and low temperature variations and under extreme conditions often found in processing plants. Formulated to provide low volatility and non-foaming characteristics, food-grade lubricant features recommended change interval of 6,000 hours.
---
Original Press Release:

Sullair's New Food-grade Lubricant, PristineFG(TM), Outperforms Industry Standards



MICHIGAN CITY, IN - Extensively tested for performance, consistency and compliance, PristineFG(TM) food-grade lubricant for rotary compressors is a long-lasting synthetic lubricant that maintains food, beverage and pharmaceutical product quality and increases equipment performance.

Sullair's PristineFG(TM) is now available for use by food processors and packagers, beverage bottlers and pharmaceutical manufacturers. This lubricant outperforms traditional mineral oils, extends equipment life and minimizes consumption, all while complying with current FDA and USDA H1 regulations. Furthermore, PristineFG(TM) has received Kosher and Halal approval and is certified by NSF International, Food Safety Services.

Longer service life

Sullair PristineFG(TM) has exhibited significant advantages over conventional mineral oils. Performance tests of this custom-blended synthetic lubricant have shown a service life that is at least eight times that of a comparable formulated petroleum lubricant. With recommended change intervals of 6,000 hours, operators can expect to reduce downtime and maintenance costs.

Maximum temperature versatility

Sullair PristineFG(TM) has been formulated to provide enhanced lubrication at high and low temperature variations and under extreme conditions often found in processing plants. Operators of these plants can be assured that their compressors will perform without unexpected delays due to lubrication malfunction.

Characteristics

Sullair PristineFG(TM) is formulated to provide low volatility and non-foaming characteristics. This translates into improved lubricity and extended bearing life, even in the high humidity atmospheres often present in food processing plants.

Compatibility

Performance tests have also demonstrated that PristineFG(TM) synthetic lubricant is totally compatible with all components of a standard compressor system regardless of manufacturer.

Cleaner operation

Food, beverage and pharmaceutical manufacturers can always rely on PristineFG(TM) to provide clean, trouble-free operation. At Sullair, extended life lubricants are a tradition and their benefits are the cornerstone of our long-standing commitment to excellence.

Sullair's air quality guarantee

Sullair Stationary Air Power systems are comprised of Sullair compressors, dryers and filters. Your Sullair system will deliver the quality of air you specify. Sullair guarantees it.

About Sullair

Sullair Corporation is a subsidiary of Hamilton Sundstrand Corporation. Hamilton Sundstrand is a subsidiary of United Technologies Corp. (NYSE: UTX). Sullair is globally recognized as a leading manufacturer of air tools, portable air power compressors, stationary air power compressors, compressed air treatment equipment and vacuum systems.

Sullair Corporation, 3700 East Michigan Boulevard, Michigan City, IN 46360. Telephone 219.879.5451. FAX 860.353.5779. Web site: www.sullair.com


More from Electronic Components & Devices