Syndiant Presents 4K UHD LCOS Microdisplays with Patented All-Digital Approach
Press Release Summary: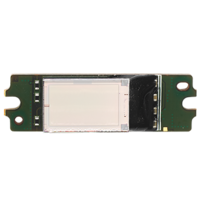 The 4K LCOS Microdisplays enables ultra-high large screen experience for both in near-eye and high brightness projection displays. The Q-View™ technology eliminates the need of external components for UHD displays.
---
Original Press Release:
Syndiant Introduces Q-View™ Technology Powering 0.55
Most innovative Ultra High Definition Solutions for Near-Eye and Projection Displays
DALLAS, Jan. 8, 2019 /PRNewswire/ -- A premier provider of microdisplay solutions, Syndiant Inc. unveils a portfolio of best-in-class 1080p and 4K UHD LCOS microdisplays and optical engine platforms at the 2019 Consumer Electronics Show in Las Vegas, Nevada.
Offering 4K UHD at the power and bandwidth of 1080p, Q-ViewTM enables an Ultra-High Definition large screen experience in both near-eye and high brightness projection projects. The patented all-digital approach eliminates external components required by competing UHD solutions.
"Syndiant's innovative Q-View™ is a fundamental step in bringing 4K UHD and beyond to a new class of consumer products. We have already seen strong interests from customers and partners," said Daniel Wong, CEO. Syndiant will demonstrate the SYL2341 4K UHD microdisplay in free-form immersive HMDs and stand-alone high brightness projectors at CES 2019, January 8 – 11, LVCC South Hall 1 – booth 22045.
"We firmly believe the future is bright for LCOS and are excited to show the world the incredible display solutions that we and our partners have developed," said Daniel Wong, CEO. The full line of microdisplay products and platforms will be on display during CES 2019, January 8 – 11, LVCC South Hall 1 – booth 22045.
About Syndiant, Inc. 
About Syndiant, Inc. Syndiant develops high definition light modulating panels and optical engines for near-eye and embedded projection displays. Syndiant's patented all-digital LCOS technology brings high definition performance to the world's smallest personal display devices. The company has offices in Dallas, Taiwan, Hong Kong, and China. www.syndiant.com.
CONTACT: Timothy Rost, General Manager and Vice President of R&D, Syndiant, Inc., Phone: 9722483331, trost@syndiant.com, www.syndiant.com
More from Non-Industrial Products