Synchronous Boost Converter has 5 A switch current.
Press Release Summary: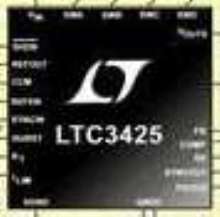 Low-profile LTC3425 incorporates 4-phase switching topology, operates at frequencies up to 8 MHz, and delivers output voltages of up to 5.25 V from input voltage range of 0.5-4.5 V. It provides up to 3 A continuous output current from 32-lead, 5 x 5 mm QFN package with less than 2 mm profile. Internal switches deliver efficiencies as high as 95%. Automatic or manual Burst Mode® operation can be enabled to reduce no-load quiescent current to 12 µA.
---
Original Press Release:

Industry's First Monolithic 4-Phase Synchronous Boost Converter Has 5A Switch Current & Very Low Profile


MILPITAS, CA - September 10, 2003 - Linear Technology Corporation announces the LTC3425, a high efficiency, synchronous boost converter, which incorporates a 4-phase switching topology to minimize solution size and to deliver ultra-low output ripple. Operating at frequencies up to 8MHz, the LTC3425's internal switches provide a 5A current limit and can deliver output voltages as high as 5.25V from an input voltage range of 0.5V to 4.5V, making it ideal for Li-Ion, NiMH applications and general purpose fixed rail systems. The LTC3425 can deliver up to 3A of continuous output current from its thermally enhanced 5 x 5mm QFN package. The LTC3425's 4-phase operation greatly reduces peak inductor currents, capacitor ripple current and increases effective switching frequency. This minimizes both inductor and capacitor sizes providing a total solution profile of less than 2.0mm.

The LTC3425 uses internal switches with an RDS(ON) of only 0.05Ù to deliver efficiencies as high as 95%. Either automatic or manual Burst Mode® operation can be enabled to reduce no-load quiescent current to only 12uA. The average current level at which automatic Burst Mode operation is enabled can be programmed via a single resistor to optimize light load efficiency. Additionally, true output disconnect eliminates inrush current and allows zero load current in shutdown. In noise sensitive applications, the LTC3425 can also be configured to provide forced continuous operation to reduce noise and RF interference. Additional features include anti-ringing control, Power Good monitor, adjustable current limit, programmable soft-start, external synchronization capability and thermal protection. The LTC3425 delivers the best solution for boost applications, which require up to 3A of output current with very low output ripple. It has the added advantage of a small solution size and low supply current.

The LTC3425 is available from stock in a 32-pin, thermally enhanced QFN package. Pricing starts at $4.38 each in 1,000-piece quantities.

Summary of Features: LTC3425

High Efficiency: Up to 95%

Up to 3A Continuous Output Current

4-Phase Operation for Low Output Ripple and Tiny Solution Size

Up to 8MHz Constant Frequency Operation

Output Disconnect and Inrush Current Limiting

Adjustable Automatic or Manual Burst Mode, IQ =12uA

VIN Range of 0.5V to 4.5V

VOUT Range of 2.4V to 4.5V

32-lead, 5x5mm QFN Package

Company Background
Linear Technology Corporation was founded in 1981 as a manufacturer of high performance linear integrated circuits. Linear Technology products include operational, instrumentation and audio amplifiers; voltage regulators,power management devices, DC-DC converters and voltage references; comparators; monolithic filters; communications interface circuits; one-chip data acquisition sub-systems; pulse-width modulators and sample-and-hold devices; and high frequencydevices. Applications for Linear Technology's high performance circuits include wireless and broadband telecommunications infrastructure, cellular telephones, networking products and satellite systems, notebook and desk top computers, computer peripherals, video/multimedia, industrial and medical instrumentation, automotive electronics, factory automation, process control, military and space systems, and high-end consumer products including digital cameras, MP3 players and other electronic products.

READER SERVICE: Call toll-free 1-800-4-LINEAR (for literature only), or go to the company's web site: www.linear.com

Note: LT, AND LTC are registered trademarks of Linear Technology Corp.

More from Sensors, Monitors & Transducers