Synchro to Digital Converters have no external components.
Press Release Summary: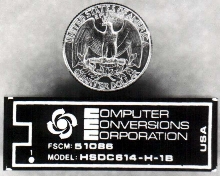 Measuring 1.12 x 2.12 x .4 in., transformer isolated converter modules mount on PCBs and track input rates up to 600 RPS with no added error. They convert Synchro or Resolver inputs 50 Hz to 5 KHz to 10-16 bit parallel binary output, representing angle with accuracy up to 2 arc min. No external transformers or components are required. Velocity and fault outputs are standard. Digital outputs are TTL/CMOS compatible, and units accept bi-directional input data.
---
Original Press Release:

New Miniature Transformer Isolated 16 Bit Synchro to Digital Converters Replace Existing Hybrid Units with No External Components


A series of miniature transformer isolated 10 to 16 bit Synchro to Digital Converter modules, which can track input rates up to 600RPS with no added error, have been introduced by Computer Conversions Corporation.

The new modules are 1.12" x 2.12" x .4"H and are designed to be mounted on P.C. Boards. They convert Synchro or Resolver inputs 50Hz to 5KHz to 10 to 16 bit parallel binary output representing angle with an accuracy up to 2 minutes of arc. No external transformers or components are required. Velocity and fault outputs are standard. There is no accuracy degradation over the operating temperature range and only +5VDC and -12VDC power is required.

The converters provide complete synchronization to a computer and the digital outputs are TTL/CMOS compatible and bi-directional input data is accepted.

The #HSDC-XT series requires +5VDC at 30ma and -12VDC at 30ma.

Operating temperature ranges are 0°C to 70°C or -40°C to +85°C. Prices in reasonable production quantities are less than $500.00. Delivery is two weeks ARO.

Computer Conversions Corporation is located at:
6 Dunton Court
E. Northport, NY 11731
Phone: 631-261-3300 Fax: 361-261-3308
WebSite: www.computerconversions.com E-Mail:Sales@computerconversions.com

More from Cleaning Products & Equipment