Swivel EMI Adapters provide directional flexibility.
Press Release Summary: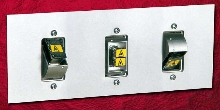 Used horizontally or vertically, rotatable optical adapters add EMI shielding and flexibility to existing cable management solutions. Products, offered as LC duplex, SC simplex, or MPO simplex, allow cable-exit angle to be re-positioned from standard straight-mount position (90° to faceplate) to ±35° in either direction. Available for single- and multi-mode applications, they include locking set-screw and die-cast adapter with EMI gasketing.
---
Original Press Release:
Molex Swivel Adapters Provide Directional Flexibility, EMI Protection

LISLE, Ill. - March 4, 2005 - As the only rotatable optical adapters available in the market, the new Swivel EMI Adapters from Molex® Incorporated (NASDAQ: MOLXE and MOLAE) help mechanical designers and electrical engineers achieve the most effective electromagnetic interference (EMI) shielding, while adding valuable flexibility, functionality and greater convenience to existing cable management.

Molex Swivel EMI Adapters allow for a full 70 degrees of cable re-orientation that turn a standard panel mount adapter into a multi-positional swivel for flexible cable grooming. As a result, users can re-position the cable-exit angle off the faceplate, in the factory or in the field, without disassembly or the need for custom modules and cards. They are ideal for high EMI and RFI areas, such as industrial equipment, laser welding, electrical generators and gas environments; telecommunications/CATV equipment; test equipment; and medical applications, where magnetic interference is a concern.

Available in LC duplex, SC simplex or MPO simplex, the adapters allow the cable-exit angle to be re-positioned from the standard straight-mount position (90 degrees to the faceplate) to +/- 35 degrees in either direction. With the new adapters, users can route an attached cable assembly to either the left or right side of the frame for horizontal-mounted adapters and up or down for vertically mounted adapters. Users also can easily change the routing direction as needed, depending on what side the card is to be installed or what direction the cable needs to be routed.

"Based on our ongoing product research and development, as well as customer input, we recognized the increasing demand for effective EMI shielding along with the growing need for more cable management options," said David Rifkin, product marketing manager, Fiber Optics, Molex Incorporated. "Introducing a completely new product to the market not only gives our customers more choices, it also provides them with competitive advantages in both design and marketing. Plus, the swivel design uses a common mounting detail, allowing any of the three styles to be interchanged without modifying the sheet metal, reducing component inventory and duplicate sheet metal requirements."

The new adapters are available for both single mode and multimode applications, and feature a die-cast adapter with EMI gasketing to minimize EMI leakage. A locking set-screw is also provided to rigidly fix the angle position, if required, during initial assembly. Molex Swivel Adapters also are available in non-EMI styles assembled with standard polymer adapters and without EMI gaskets, offering cost control when EMI suppression is not required.

For more details about Molex Swivel EMI Adapters visit www.molex.com/product/fiber/emiadapter.html

About Molex Incorporated

Molex Incorporated is a 66-year-old global manufacturer of electronic, electrical and fiber optic interconnection systems. Based in Lisle, Illinois, USA, the company operates 55 manufacturing facilities in 19 countries. The Molex website is www.molex.com.
More from Packaging Products & Equipment