Switching Power Supply delivers 10 kW DC power.
Press Release Summary: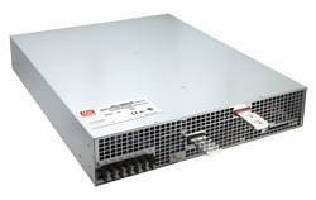 Available in 3 versions offering 24, 36, or 48 Vdc outputs, Model RST-10000 can accept delta-connected 3-wire, 3-phase 196–305 Vac input, or operate from 4-wire Y connection delivering 340–530 Vac. Output voltage for all versions can be trimmed between 20% and 120% of nominal output by using 1–6 Vdc external control signal. Offering 91% efficiency, enclosed AC/DC switching power supply includes active PFC as well as parallel function to provide 20 kW total DC power.
---
Original Press Release:

10kW DC Power Now Available from a Single AC/DC Switching Unit



Aldermaston — Sunpower's new high power enclosed Mean Well AC/DC RST-10000 switching power supply, as the first to deliver 10kW DC power from a single unit, is the ideal solution for high-power systems builders under pressure to design more functionality and greater power density into smaller areas. Its advantage as an efficient, high power density resource is further enhanced as two units can easily be paralleled to provide 20kW total DC power. The product is a development from the well-established Mean Well RST-5000 5kW model, which has been achieving high customer ratings for some time.



The RST-10000 can accept a delta-connected three-wire three-phase 196 to 305VAC input. Alternatively, it can operate from a 4-wire 'Y' connection delivering 340 – 530VAC. Three versions are currently available as standard, offering 24, 36 or 48 VDC outputs respectively. Output voltage for all versions can be trimmed between 20% and 120% of the nominal output by using a 1 – 6VDC external control signal. Another external control signal, of 1 – 5VDC, allows trimming of the output current between 20% and 100% of its nominal output value.



The units have a couple of powerful protection function modes. The first provides continuous constant current limiting to prevent overload damage, and the second offers constant current limiting with shutdown after 5 seconds' delay. Short circuit, over voltage and over temperature protections are also provided. International UL, CUL, TUV, CB and CE approvals are in place.



A built-in 12V 0.1A auxiliary output is provided; this can be used for remote On/Off control. Alarm signals report AC Fail, DC OK, Fan Fail and Over Temperature conditions. Remote Sense connections are also provided.



The RST-10000 offers a high efficiency of 91%, boosted by a built-in PFC function. A built-in fan with speed control function provides forced air cooling; this allows full load output in temperatures to 50°C ambient.



"With a power level previously unattainable from a single unit, Sunpower's Mean Well RST-10000 allows systems designers to achieve more compact and competitive power solutions for high power applications such as automation equipment and machinery, industrial control systems, large-scale charging systems and laser cutting machines" commented Andy Wall, CEO of Sunpower UK, "equally, they provide new possibilities for data processing environments such as data centres, cloud storage systems and central office telecommunications systems."



Visit the Sunpower UK website for more information:

RST-10000 Enclosed power supplies with parallel function and active PFC



About Sunpower

Sunpower Technology LLP is the UK arm of a Taiwanese manufacturer that also enjoys extremely strong bonds with other, highly skilled factories and engineers in Taiwan and China. The company delivers a wide range of standard, custom and bespoke power supplies to businesses and organisations across the UK.



Sunpower Technology LLP is also an Authorised Distributor for Mean Well Enterprises, providing customers with cost-effective and direct access to their dependable and high quality power supplies. These products are complemented by Sunpower's unsurpassed level of service, support and product knowledge. 



Sunpower Technology LLP's overall range of industrial and commercial power products include DIN rail power supplies, LED drivers, industrial battery chargers, industrial power supplies, marine power supplies, ac adapters and plugtops, and sine wave inverters. They are used in rugged, data storage, medical grade, laboratory, EPOS and many other applications. Sunpower's engineers are highly experienced in producing custom design power supplies and their value added service is focused on giving customers 'ready to go' products that resolve all their power supply needs.



Sunpower Technology LLP Ltd's Quality Management System is BS-EN-ISO 9001:2008 certified; its factories are also approved to both ISO-9001 and ISO-14001. The company has been ISO certified since August 1997.



Sales and Technical contact:

Andy Wall

Sunpower Technology LLP

Orion House

Calleva Business Park

Aldermaston

Berkshire RG7 8SN

Tel:         +44(0)845 533 0438

Email:    enquiries@sunpower-uk.com

URLs:     www.sunpower-uk.com

www.meanwelldirect.co.uk 

More from Agricultural & Farming Products