Switching MUX is supported by VISA and Kernel drivers.
Press Release Summary: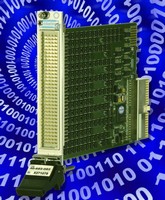 Utilizing solid state switches with no switch bounce, Model 40-682 Solid State Versatile MUX features 3.2 W on resistance, ±40 V voltage rating, 80 µsec switching time, and bounce free rise time of less than 20 µsec. It handles continuous currents of 0.25 A and pulse currents of 0.75 A for 100 ms, and allows users to operate switch in configurations ranging from 8 banks of 16 channel 1 pole multiplexers to 1 bank of 128 channel 1 pole multiplexer.
---
Original Press Release:

Pickering Interfaces Introduces New Solid State MUX



Clacton on Sea, UK, May 22nd, - Pickering Interfaces is expanding its range of PXI switching products with the introduction of the 40-682 Solid State Versatile MUX.

The 40-682 is a an equivalent to the Pickering Interfaces 40-612 Versatile MUX but uses high performance solid state switches having a long service life, no switch bounce, and low on resistance. The on resistance of each multiplexer is typically just 3.2 ohms, significantly lower than any other PXI solid state switching module. Use of FET switches in the design ensures that the module can handle high currents without degrading the life time of the switches.

The 40-682 can handle continuous currents of 0.25 A and pulse currents of
0.75 A for 100 ms - enabling the multiplexer to switch reliably when connect to capacitive loads. Switch voltage rating is specified at ±40 V. The versatile switching arrangement allows users to operate the 40-682 in a variety of configurations ranging from 8 banks of 16 channel 1 pole multiplexers to 1 bank of 128 channel 1 pole multiplexer. Two pole switching is supported by the same module with configurations ranging from 8 banks of 8 channels to 1 bank of 64 channels.

The 40-682 is supported by VISA and Kernel drivers that provide fast control of the switching system. Switching time, including the driver, is typically just 80 µs with a bounce free rise time of less than 20 µs.

The 40-682 is ideal for a variety of applications where fast operation and long service life is required. It offers the lowest on resistance of any solid state switch available in the PXI format. The 40-682 can be configured to perform 4 terminal resistance measurements using a DMM quickly and accurately at the highest current capability of the DMM with low measurement errors.

The 40-682 is available now and pricing can be found on our website at www.pickeringtest.com.

About Pickering Interfaces

Pickering Interfaces is a market innovator in signal switching and conditioning for a broad range of applications and architectures, with the largest range of switching cards in the industry for PXI, LXI, PCI, VXI and GPIB applications. Pickering Interfaces has provided solutions to both commercial and military applications. In addition, Pickering's range of instrumentation provides innovative test solutions to users and integrators of modular test systems. Pickering Interfaces operate globally with direct operations in the US, UK, Germany, Sweden, France, Czech Republic, and Engineering support in China, together with additional representation in countries throughout the Americas, Europe and Asia.

Sales Contact for the US :
bob.stasonis@pickeringtest.com
Tel. +1 781-897-1710

More from Electrical Equipment & Systems